Create massively profitable Google Ads campaigns
Google Ads Course - Get Google Ads Certified
The Ultimate Google Ads Course
The Market Ardent Google Ads course teaches how to create profitable Google Ads campaigns as quickly as possible. You will see strategies in action that will drive consistent traffic, leads, and customers, to you and/or your customers (Google Ads clients).
Google Ads is one of the most used paid digital marketing tactic. The problem is…it's not straightforward to jump in and get massive results. More often that not, you run ads and spend thousands in cost with little, if any conversions. This course changes that. You'll get to see Google Ads and strategies in action. These are strategies that we have used to get over 233 leads from 5.68k impressions with an average cost per click of $0.30. Sounds impossible? see it for yourself!

Google Ads Course: What's Included
Special Offer - Sign Up at the Best Price​
Enrol now to save big on the ultimate SEO course. SEO training with proven step-by-step guides, videos, downloadable, and more at an affordable price.
Why Take The Market Ardent Google Ads Course?
From our screenshot, it's clear that we are teaching tested and proven strategies even when dealing with highly-competitive keywords. Want more? The Google Ads course provides world-class pay per click training that's designed to teach you exactly what you need to know to run Google Ads campaigns that reach the right goals, as quickly as possible.
Who's a Good Fit for the Google Ads Course
Our Google Adstraining is majorly for two sets of people. One is any entrepreneur, regardless of niche or technical expertise. The second is people looking to pursue marketing through Google Ads as a career or add it to their skill-set. To enjoy this PPC course, you don't need to have prior knowledge or experience. The training videos go into detail to explain every nitty-gritty.
Enrol If You Fit In Any Of These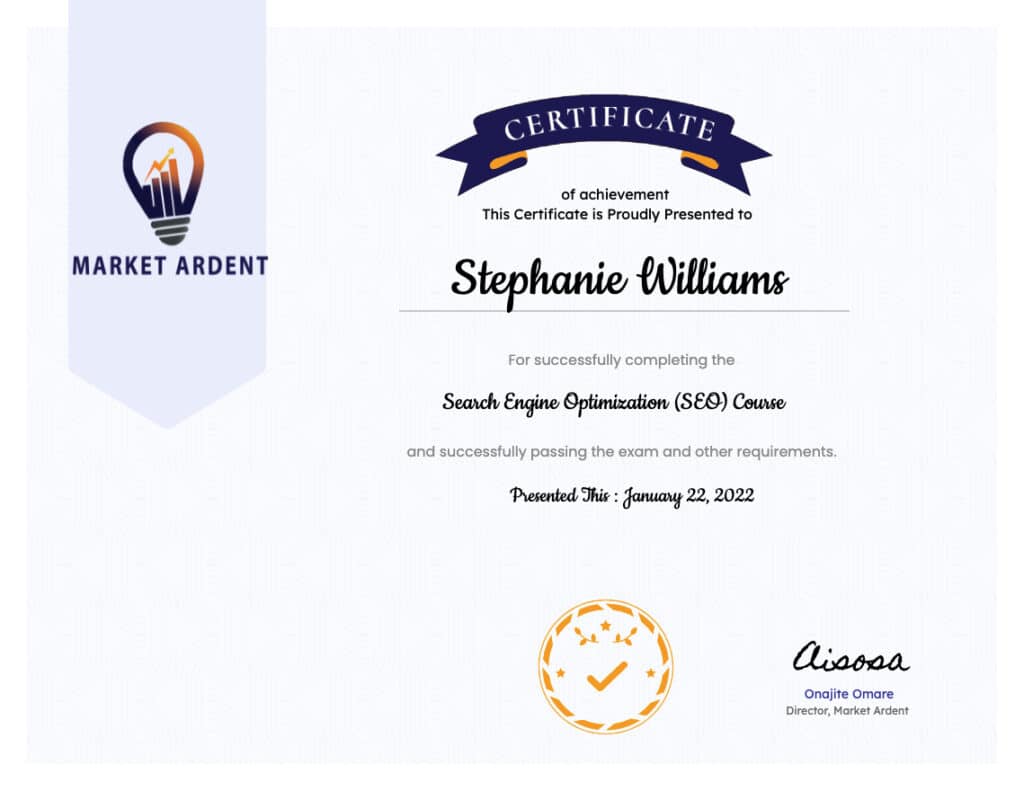 Get the Google Ads Blueprint & Certificate
Whether you are looking to learn Google Ads for your business or career, you will reap immense benefit from this course. You will uncover Google Ads secrets and processes to create and optimize high-value Google Ads campaigns.
There is a Google Ads certification. When done with the course and required tests, you will earn a Google Ads certification to demonstrate and prove your knowledge, expertise and skills.
Trusted By More Than 300 Students
I just finished the content writing course and honestly, it was great. I learnt so much.
It's was great experience learning how to create Google ads with you guys. I planned taking a course on SEO soon. Thanks for your assistance on the Google ads course.
Great courses, nice and professional support. I have taken the SEO, social media marketing, and Google Ads course. Love all three. Best explanation I have gotten from all the other courses I have tried.
I noticed an improvement on my website before the end of the SEO course. The course is easy to follow and they broke down technical issues into simple terminology. I enjoyed the course.
Check Out Our Other Courses
Our SEO  course covers all you need to know about optimizing websites for search. Includes marketing strategy building, content marketing, on-page SEO, off-page SEO, technical SEO, and more.
Our Social media marketing course covers both organic social media marketing and paid advertising. Includes strategy building, conversion optimization, creating & curating content, social media audits, and more.
Our content marketing course covers all aspects of  creating profitable content marketing campaigns. It includes buyer persona building, segmentation, copywriting, messaging, content optimization, and more.
Join Our 352 Happy Students​ Today!
Achieve your business or career goals. Enrol for one or more of our digital marketing courses and get access to tested and proven steps that successful brands and marketers use. Sharpen your skills and widen your network by interacting in the Market Ardent community even as you learn!