Implementing a data and customer-driven search engine optimization (SEO) strategy will improve your rankings and scale your or your client's website and, by extension, your business. But, if you have ever tried to learn SEO in the past, you'll understand that it's hardly straightforward if you don't have a great SEO course guiding you.
Many blog posts around SEO only cover the basics. Spending hours searching for YouTube videos or blogs for each aspect of SEO is time taking, nerve-racking, and so stressful. I wouldn't advise you to do that; I have done it in the past, and it was a terrible experience.
What I have for you today is an in-depth research. I have scoured the internet to get the 10 best SEO courses that cover SEO with excellent quality. While some are only suitable for beginners, some others are extensive courses, and a few teach both basic and advanced topics in one package.
These SEO courses are from reputable organizations and industry experts, with notable successes. So, if you're keen on learning search engine optimization secrets, read on to discover the courses you should take.
Search Engine Optimization Course – Market Ardent (

₦

72,000.00 One-time)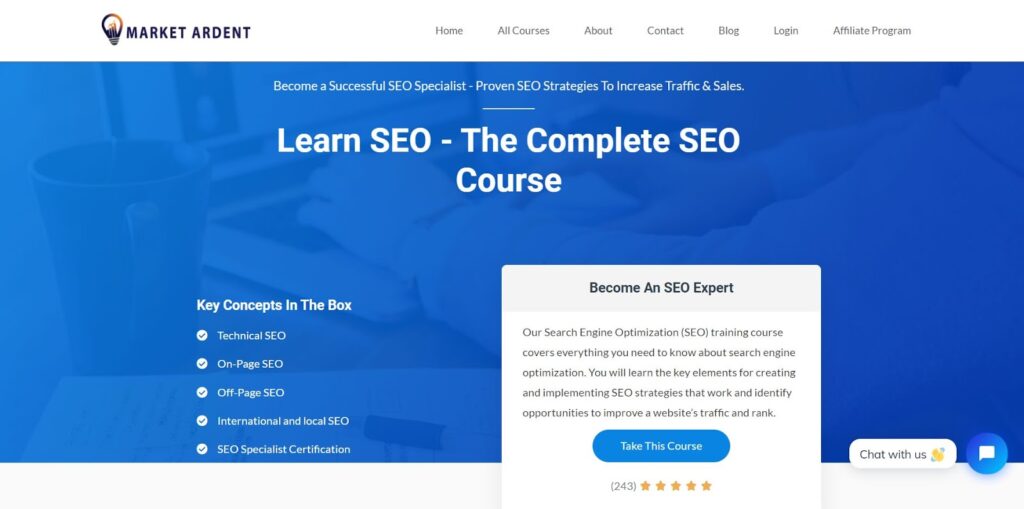 Features
Trusted by over 300 students, Market Ardent's SEO course contains proven strategies to improve website traffic and sales. It's a complete SEO guide covering all you need to implement scalable SEO campaigns and improve your search engine ranking.
This course leaves no stone unturned from technical, on-page, off-page, international and local SEO to SEO audit and competitive analysis and keyword research. The training module covers over eight hours of short videos, with 14 topics and 60 lessons. You can also get access to downloadable PDFs, docs, templates, and much more.
With this course, you learn how to get the traffic in and how to convert the traffic as there are aspects of conversion optimization. Furthermore, you'll get access to some SEO tools at a discount.
Market Ardent's SEO course is perfect for anyone, irrespective of skill level or previous knowledge of technical stuff. If you ever require help or additional explanation, you can avail the Q&A section, live chat, phone, video call, and email support.
At the end of the course, you'd have learned the critical elements for creating and implementing SEO strategies that work. You'd also be able to identify opportunities to improve search engine ranking and increase a website's traffic.
Additionally, you will earn an SEO certificate to prove your new knowledge and skills. To earn the certificate, you'll need to score at least 75% in the 40 minutes test after the course and finish all course material.
Pricing
Market Ardent's SEO course costs ₦72,000.00, which is quite affordable in comparison with similar courses. It's also a one-time fee with access to updates which is great since Google updates its algorithms quite often.
Pros
Covers all aspects of SEO
Offers as many interactions as possible, including Q & A sessions, live chat discussions, and video calls with coaches
Comprises both basic and advanced lessons
Contains short, bite-sized actionable video tutorials
Affordable
Provides ongoing support and consulting
Frequently updated to reflect new industry practices and Google algorithm updates.
Cons
It's an online course. Though they offer physical training, it's only in a few select locations.
Online SEO Course with Certification – IIDE ($110 One-Time)
Features
IIDE's Online SEO Course with Certification teaches SEO with a combination of live classes and pre-recorded videos. The online course includes on-page and off-page SEO techniques, as well as strategies for creating SEO-friendly content. Also, IIDE includes the use of animations to simplify the technical and non-technical parts of SEO.
The mode of teaching for this course consists of two methods. The first one starts with video-recorded lectures that are self-paced and cover the core concepts of SEO and the next step is to attend a Live Online Session where the trainer demonstrates live dashboard simulations as well as allows you to revise concepts that you have learned in the video lectures to ensure you understand SEO by the end of the course.
The IIDE SEO course is ideal for individuals who are new to SEO, such as marketers, developers, and bloggers.
Pricing
IIDE's SEO Certification Course is available for a one-time fee of $ 110
Pros
1+ Hours Of Video Lectures and 6+ Hours of Live Session
You can take the lectures on any device
Practical Tests & Assignments Will Be Conducted To Test Your Knowledge
Dedicated Q&A Support & Help
Cons
Limited access to the course (30 days access and can only be taken on specific dates)
On-Page and Technical SEO Course – SEMrush (Free)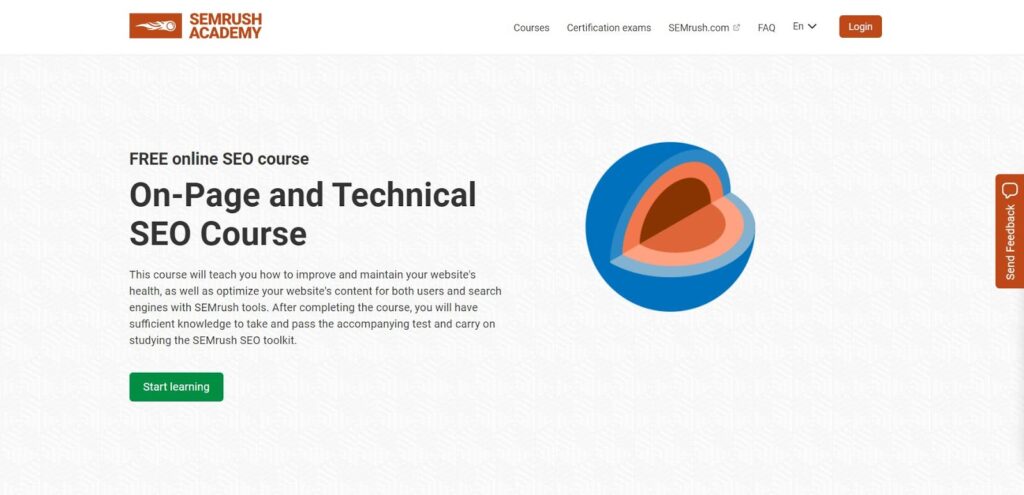 Features
SEMrush Academy offers a variety of courses that covers different aspects of SEO. This SEMrush course teaches how to optimize your website's content for both users and search engines using SEMrush tools. It covers seven exclusive lessons in video and print, for 1 hour.
The course comprises two modules; Technical SEO and On-Page Signals. The technical SEO teaches how to conduct an SEO audit, identify and fix crawlability issues, perform a log file analysis, and troubleshoot HTTP issues. With on-page signals, you'll learn how to create SEO-friendly content, eliminate on-page errors, and get on-page optimization ideas.
This course is suitable if you are only looking to learn technical SEO and on-page SEO. At the end of the course, you will have sufficient knowledge to take the quiz and test what you've learned.
However, the focus of this course is on how to use SEMrush tools for search engine optimization. In essence, SEMrush's main job is to sell SEO tools, and their courses are to lure you into sticking around and using their tools.
Pricing
This course is free, and you'll even get a personalized certificate after passing the exam.
Pros
Includes in-depth and well-structured information
Offers a chance to learn how to use SEMrush SEO tools
Regularly updated to feature new SEMrush features
100% free SEO training course
Cons
It only covers two aspects of SEO – technical and on-page.
It might not be the best course for individuals who aren't interested in using SEMrush tools.
Off-page SEO, which is a big deal, isn't included in this course.
SEO Training With Jellyfish ($1,796.40 One-time)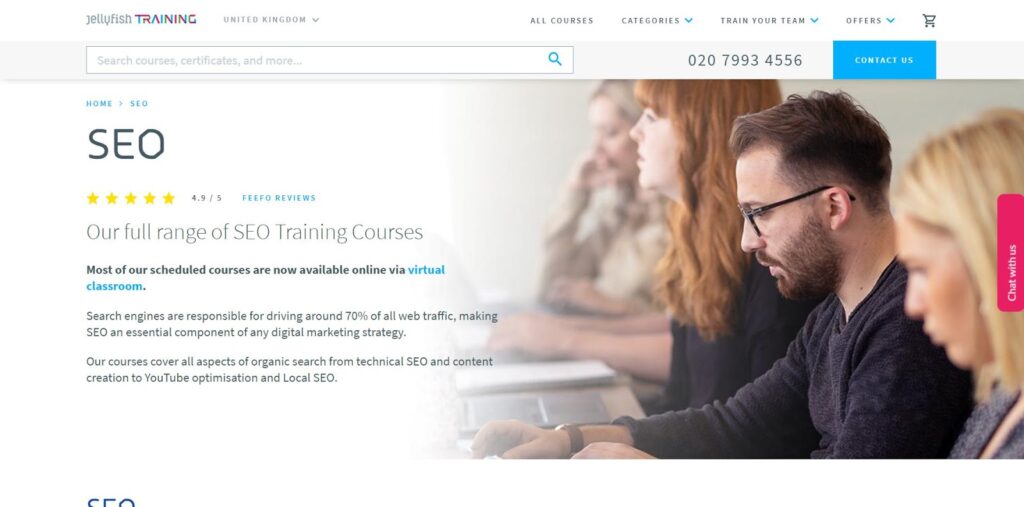 Features
Jellyfish offers a range of SEO courses, from technical SEO and content creation to YouTube optimization and marketing and local SEO. It teaches these courses as three independent SEO courses.
The Jellyfish course is further divided into standard and advanced packages. With the standard package, you'll get an introduction to SEO, how to perform keyword research, onsite SEO, and offsite SEO. The advanced package teaches topics such as crawling and indexation, schema and structured data markup, dealing with pagination, and other technical SEO specifics.
The course duration for each package is one day, and you can choose to learn in three different ways. There's the face-to-face classroom meeting from Jellyfish's training center in The Shard, London, and a virtual classroom where you can log in from any location. Jellyfish also offers a private training session for individuals or groups at a location of your choice.
At the end of Jellyfish's SEO course, you should be able to describe how search engines work, undertake keyword research, and analyze competitor websites. Additionally, you'll be able to use basic SEO tools like Google Search Console.
Pricing
Each package of the SEO course costs £499, ex. VAT (£598.80 inc. VAT). It means the SEO course alone costs £1,197.60 inc VAT. If you need to learn local SEO, you'll be paying an extra £598.80 inc. VAT. In essence, Jellyfish's prices are higher than other SEO courses offering similar packages.
The private classroom's price depends on the location, number of individuals, and training level required.
Pros
It offers both basic and advanced training modules.
It's a good choice for individuals and large enterprises looking to train their teams.
Cons
The prices are high
The virtual classrooms are fixed at specific dates, which might not be flexible.
The Blueprint Training ($2,999 Per year)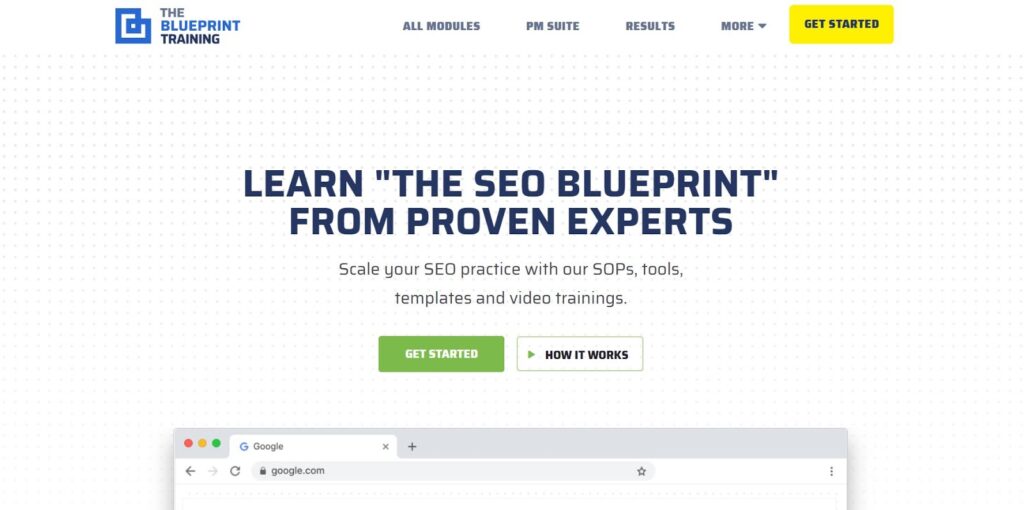 Features
The Blueprint Training course is designed specifically for SEO agencies looking to scale. It focuses on processes for learning and implementing scalable SEO campaigns across hundreds of clients.
The course contains 17 modules covering client onboarding, keyword research, on-page SEO, technical SEO, content marketing, competitive analysis, audits, and more. You can get access to video training, automation tools, and deliverable templates.
The Blueprint Training also has a private slack group for consulting and support. Through this channel, you'll gain access to the Blueprint Training staff and a network of experts.
The Blueprint course teaches how to execute advanced SEO tactics. Therefore, there are no introductory topics that cover the basics, and it's assumed you already have a working knowledge of SEO.
Pricing
Each module is available at a one-time fee, ranging from $0 – $499. The Blueprint Academy also offers a membership package that gives you access to all its modules for $2,999 a year.
Pros
It's perfect for a team or an agency looking to scale their operations.
It comprises short, actionable videos broken down into simple processes.
It features custom-built tools to automate the process taught.
Cons
The free content doesn't provide much. To get true value, you need to pay, and $2,999 a year is a lot for most people.
Better for agencies. So, individuals looking to take SEO as a career are not a priority.
The SEO Playbook – Robbie Richards ($597 One-time)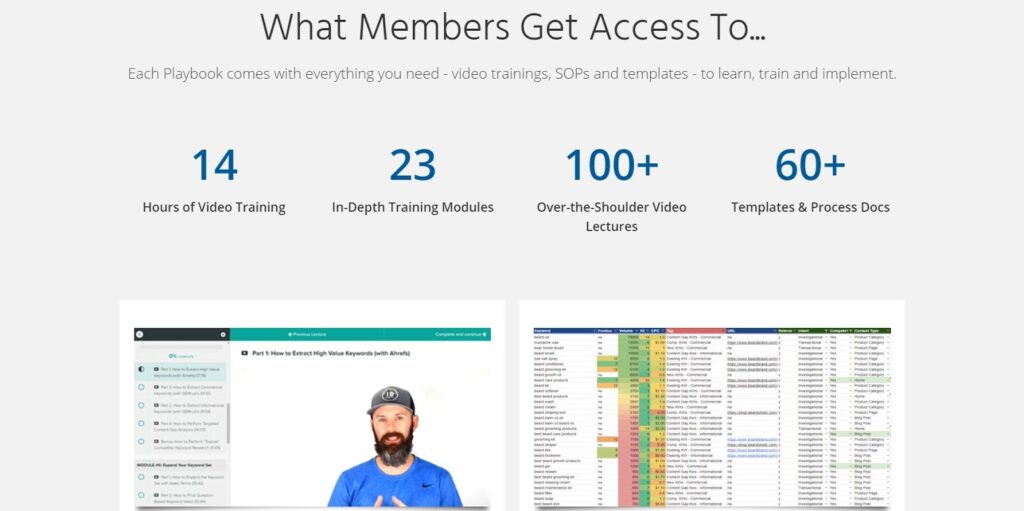 Features
Robbie Richards' Playbook is an in-depth search marketing training program designed for intermediate to advanced SEO professionals. It consists of a series of repeatable systems that you can use to build marketable skill sets and increase organic traffic, lead, and sales. The program is a closed house training that only opens once in a while for new students.
The course's launch version starts with three playbooks: the content audit playbook, the quick-win playbook, and the keyword research playbook. However, as a member, you'll get access to a growing library of playbooks, each containing specific SEO processes.
You'll learn how to do keyword research, perform technical content audits, and more. The course includes 20+ training modules, some templates and process documents, and video tutorials with several training hours.
You'll get to watch over the shoulders of the instructor as he applies the course material on real websites across different industries.
Additionally, the SEO Playbook provides access to a private Slack channel where you can communicate with different students and get answers to questions. However, this course isn't for newbies. Its content contains some technical knowledge suitable for intermediate to advanced SEO practitioners. It also features SEO tools only industry experts can use.
Pricing
You can get the SEO Playbook for a one-time fee of $597.
Pros
An over-the-shoulder training with real-time applications on existing businesses
Access to numerous course materials
Suitable for training employees or team members
Cons
The course isn't so great for eCommerce and SaaS businesses.
You can get high-value SEO courses for a lower price.
Clickminded SEO Certification ($997 One-timeone-o)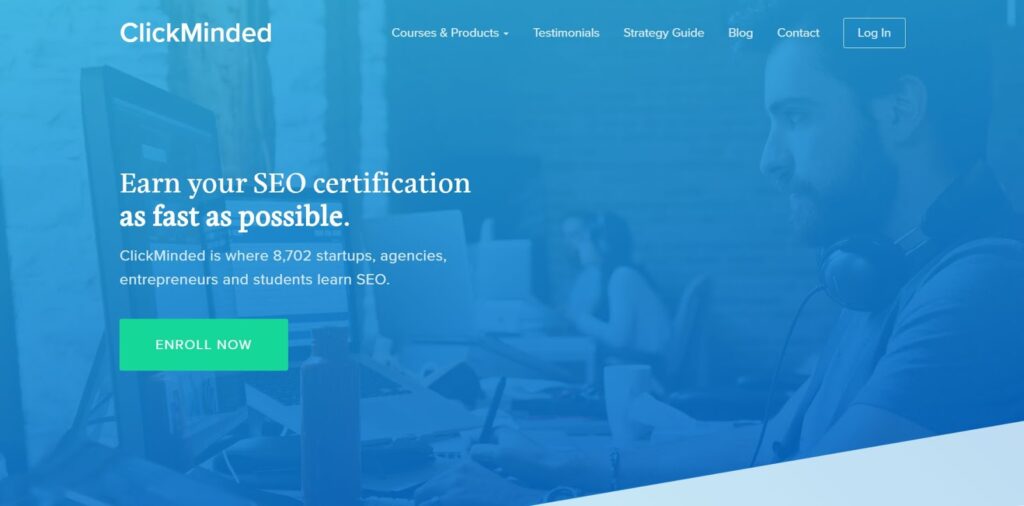 Features
Clickminded's certification course offers a detailed and comprehensive overview of driving traffic from search engines as quickly as possible. It begins from the basics, giving you an overview of the marketing funnel, search intent, and how to hone your keyword research skills.
The training syllabus also covers link building and technical SEO. The course contains short videos and downloadable slides and lecture quizzes.
Clickminded offers unlimited lifetime access and free lifetime updates to its subscribers. The course also includes a final exam from which you'll earn a certificate that you can showcase to potential employers.
Pricing
Clickminded SEO course cost $997.
Pros
Comprehensive SEO courses online
It's suitable for training employees or team members.
Cons
The course fee isn't cheap, making it more suitable for organizations that have big SEO training budgets.
SEO Essentials Certificate Series – Moz Academy ($595 One-time)

Features
The SEO essential certificate series is an instructor-led course suitable for anyone looking to learn and implement SEO efficiently.
It consists of six-part comprehensive SEO courses, comprising five sections of lessons and one certification and exams section, lasting six hours. The five courses, which consist of quizzes and tests, include fundamental SEO concepts, keyword research, on-page optimization, link building, and report strategies.
This SEO course also includes actionable ways to implement your newfound skills using Moz Pro. However, the course isn't dependent on the Moz tools, and you can enroll without a Moz Pro subscription.
By the end of the course, you'll be able to identify and prioritize keywords, develop a competitive SEO strategy, and measure the impact of your SEO campaign.
Pricing
Moz Academy's SEO essential certificate series is available for a one-time purchase of $595.
Pros
It covers basic or fundamental SEO strategies that are easy to grasp
It offers an added benefit of learning how to use Moz's SEO tools.
Cons
It's relatively expensive for the topics it covers.
Advanced Search Engine Optimization (SEO) Certification Training – MarketMotive ($299 For 180 Days)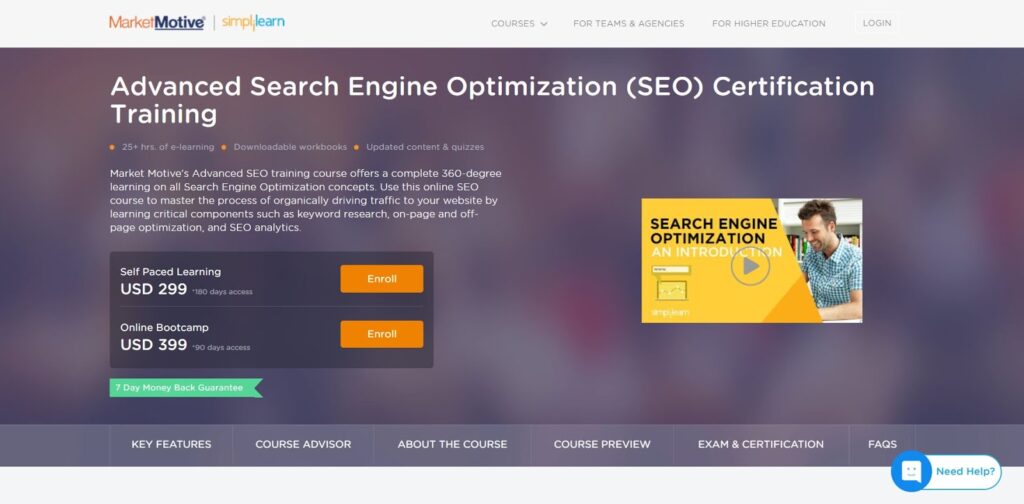 Features
Market Motive's Advanced certification course offers extensive training on all search engine optimization concepts. With this course, you'll learn ideas that'll help you organically increase your website's visibility.
You'll learn keyword research skills, on-page and off-page optimization, advanced content marketing, and SEO analytics. The course comprises several hours of live instructor-led classes, downloadable workbooks, and updated content and quizzes.
To earn a certification, you'll need to complete 85% of the course, three projects, and one test with a minimum score of 60%.
At the end of the course, you'll be able to collect and analyze data using multiple research methods and troubleshoot any website problems. You'll also have the ability to optimize your site's off-page factors and use analytics to make detailed studies of the right SEO tactics.
Pricing
For self-paced learning, with 180 days of full access to the course, you'll pay $299. There's also the online Bootcamp package, with 90 days of full access to the course, which costs $399. Additionally, Market Motive offers a 7-day money-back guarantee on all packages.
Pros
It teaches fundamental to advanced SEO skills.
It uses SEO tools like Raven, Moz, Majestic, SemRush, and Spyfu in its training.
Cons
Access to this course is for a limited time, and you'll need to pay an additional fee to extend the access period.
Yoast SEO Training ($499 Per Year)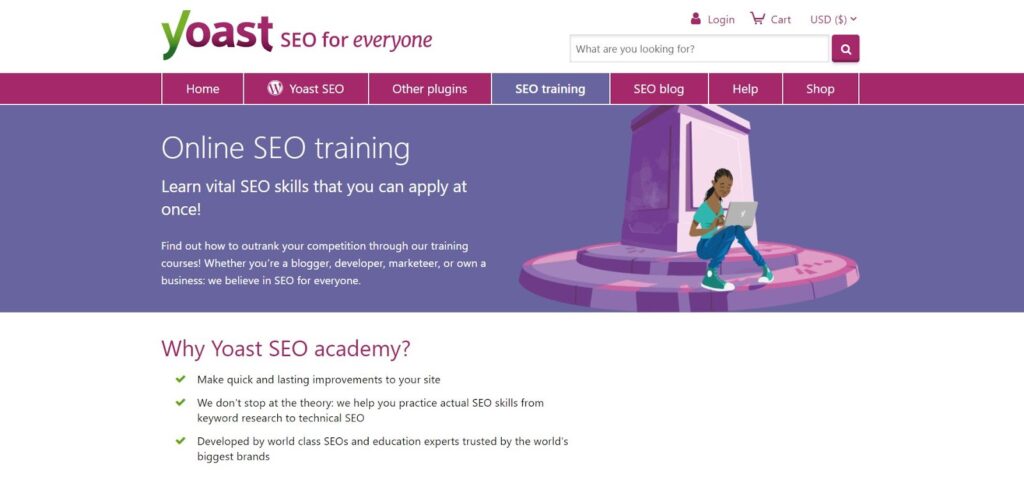 Features
Besides their popular WordPress plugin, Yoast also has an online academy for SEO training. Some of its courses include Yoast SEO for WordPress plugin, All-around SEO training, SEO training for beginners, content, technical, and premium SEO courses.
Each of these courses teaches different aspects of SEO, with the premium course offering all-in-one in-depth training. Some of the topics you can learn include keyword research, SEO copywriting, site structure, and technical SEO
With Yoast SEO courses, you can get over 3 hours of well-simplified instructional videos. You'll also get PDF files for reference purposes, and there are quizzes to test what you've learned. Upon completion of the course, you'll earn an SEO certificate and a badge.
This course is appropriate for you, whether you're a developer, marketer, content writer, or blogger. Yoast SEO courses can help you rank by teaching you how to outperform your competitors who have more resources.
Pricing
Some of Yoast SEO courses, such as the WordPress plugin and All-around SEO training, are free. However, the content and technical courses cost $299/year each ($29/month), while the premium course goes for $499/year ($49/month).
Pros
Yoast SEO courses are appropriate for individuals with zero knowledge of SEO
It offers tips on how to use the Yoast SEO plugin.
There are free courses that you can take.
Con
The premium course has a high price tag, especially given that it's limited for one year.
On-page SEO is focused on the Yoast SEO plugin, which, although great for some parts of WordPress SEO, isn't great for optimizing content.
If you're looking to rank sites that are more than WordPress, this course isn't for you.
SEO That Works – Brian Dean ($397 Per Month)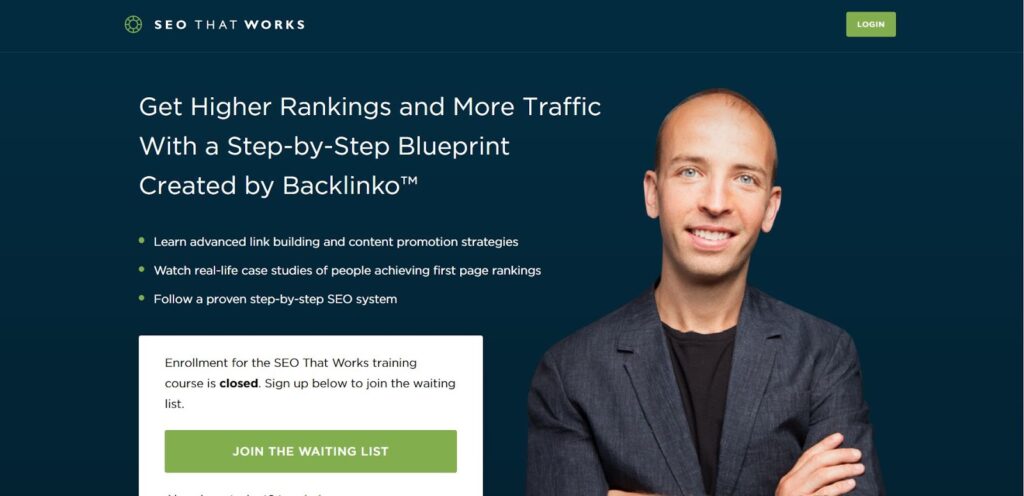 Features
SEO That Works teaches advanced link building and content promotion strategies. This course is perfect for individuals who own a blog and are looking for a step-by-step way to structure their content.
If you have challenges ranking your pages, this course might be suitable as it teaches effective content marketing. Its strategy is based on building a solid content called 'The Power Page' and marketing that power page. Additionally, you'll learn about the issues with the conventional notion of SEO and backlinks and the new methods that are more helpful.
This course contains five modules, including current SEO strategies, linkreators, and optimizing content for UX signals. You'll get access to instructional videos, mp3 audios, PDF transcriptions, templates, and worksheets with real-life case studies. There's also a private Facebook page for support and consulting.
Pricing
SEO That Works is a closed-house training that opens to students once in a while. You can subscribe to any three membership levels: SEO That Works Complete, SEO That Works Advanced, and SEO That Works Standard.
The Complete Membership plan is for $397/month, the Advanced plan is for $197/month, and the Standard goes for $97/month. However, each time the training opens, there are revisions to the course, and therefore the prices change.
Pros
It teaches SEO tips and tricks that can successfully rank your blog.
It comprises short instructional videos, not more than 10 minutes long.
There's an mp3 version available for listening on the go.
Cons
It's one of the most expensive SEO courses online.
It's SEO methods are more appropriate for ranking blogs than local small businesses.
What Course Have You Decided On? Do You Still Have questions?
If you're unsure which to go with or have any questions, reach out in the comments, and I'll respond ASAP.
Becoming SEO certified is a great way to prove that you know your onions. Beyond the certificate, the knowledge you'll gain will help you grow into becoming an expert in the field as you practice. An excellent way to begin is to take an online SEO course and grow your skills.
Our review of the top 10 SEO courses should narrow down your options and help you pick the course that best suits your needs.