Here's the step-by-step guide on digital marketing. Digital marketing has made getting customers and doing business cheaper and easier.
As we all know, marketing is one of the critical factors to succeed in a business. Decades ago, if you talk about marketing, the default was offline or "traditional" marketing. It's good but quite expensive, plus there are other disadvantages when placed against digital marketing.
Don't get me wrong; some businesses still get great benefits from traditional marketing. However, small businesses will struggle with it.
Thanks to the internet, which brought about online marketing, entrepreneurs and marketers can spend $5 to get customers and convert. Of course, all digital marketing services or areas aren't that cheap.
Enough of my rambling. This is a step-by-step guide that covers the digital marketing basics and more. Here's the outline for digital marketing 101:
What Is Digital Marketing?
Digital Marketing is all the marketing actions that utilize the internet.
With digital marketing, you can take your business online and use web-based channels, such as search tools, social media platforms, communities, email marketing, and PPC campaigns to market your products and services.
All of these channels have one thing in common: to expose your business to the right audience with prospective buyers.
What Advantage Does Digital Marketing Have Over Offline Marketing?
First off, offline marketing is the same as traditional marketing. It involves using television ads, flyers, banners, radio, newspaper, and other marketing avenues or media channels outside the internet.
Two major advantages that digital marketing has over offline marketing are cost and analytics. There are others as well, which we will look at.
Cost: Online Marketing vs. Offline Marketing
Offline marketing is more expensive to run compared to online or digital marketing.
It is cheaper to run an ad campaign on the internet than to reserve an advertising space or time on radio/television/newspaper.
A marketer can spend $5 on Facebook ads and reach thousands of people and possibly convert (depending on targeting and ad creative), but there's no TV station you can advertise on for $5 for the same reach and frequency.
Billboard ads start from hundreds or thousands of dollars, depending on where they are located.
Targeting: Online Marketing vs. Offline Marketing
For targeting, online marketing does it better. The most you can do for targeting in offline marketing will depend on the TV shows/programs you advertise in or area. For example, if you are a marketer for a Dental practice, you could place a banner or billboard ad in your city, or if you sell athletic shoes, you can run a TV ad during a football commercial, but that's not enough.
With the dental practice, you will reach a ton of people that wouldn't be interested in your ad at all. That doesn't mean offline marketing isn't relevant. It is; you just have to be willing to spend a ton of money to get results.
For online or digital marketing, on the other hand, you can target right. As long as you have good customer research, you can target based on interests, how they buy online or on your website, engagements, and more.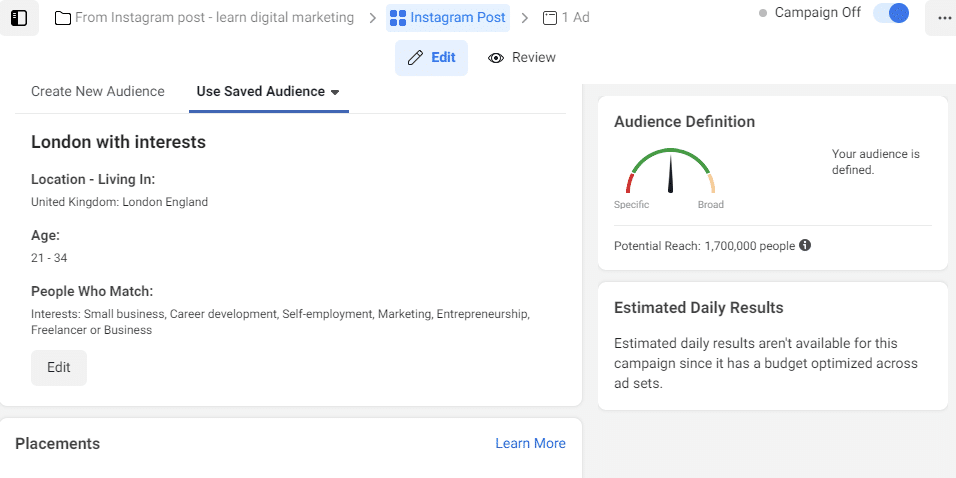 You can even reach them when they need you or search for your service (for example, through Google Search Ads).
Most Commonly Used Channels in Digital Marketing
Pay per click or PPC advertising
PPC stands for pay-per-click. It is the digital marketing strategy in which marketers pay a fee for each click their ad gets. It is an easy way of buying traffic to your site instead of naturally getting that traffic.
Some people also classify social media advertising, like Facebook and Instagram Ads, under PPC. And Yes, depending on your objective on those ad platforms, you can pay per click. But in most cases, PPC is used to refer to Google Ads (formerly Google Adwords) methods.
Search Engine Advertising Or Paid Search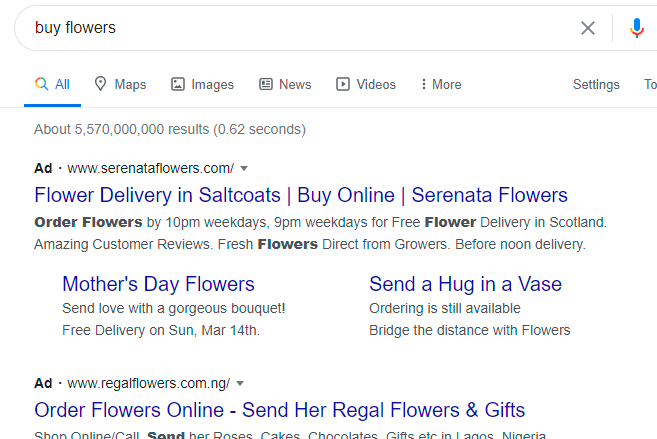 Search engine advertising or paid search is a well-known technique to get an ad posting in search engine results with sponsored links. This helps when you want to get a product/service sold fast, or you can't wait for 3-6 months for SEO to kick in.
With paid search, your site gets to show up at the top (if you bid right) whenever someone searches on a keyword that you bid for. When you bid for the keyword 'digital marketing', your ad is likely to appear at the top position on the Google search engine results page when someone searches for that.
To succeed in this strategy, you need to understand PPC keyword research and gain enough Google Ads knowledge before starting a Pay per click marketing campaign.
Paid Display Advertising
This, just like paid search advertising, is run by search engines, including Google and Bing. This type of paid online marketing uses image, text, audio, video, and motion ads displayed on applications and websites.
These displays can be in any form, and they can pop up in different sizes. Display ads can be animated, expanding, static, interactive, or a video, depending on how you want them.
Content Marketing
Content marketing is one of the most promising areas of digital marketing. It is marketing your product, services, and business virtues through credible and unique content.
The first thing is to create unique content that your audience would love and enjoy, thereby affecting their buying verdicts along the line.
You can use consistent, high-quality content to generate leads and traffics, which can generate sales.
Another advantage of content marketing is that it proves credibility.
With credibility, you will build an online community that trusts your judgments and recognizes your uniqueness in your niche. Therefore convincing them to buy your goods will be easy.
Content marketing comprises several aspects of content, including websites, blogs, video content and vlogs, white papers, social media posts, infographics, e-books, brochures, case studies, and webinars. The basis of every good digital marketing technique usually encompasses unique and credible content.
Video Marketing
This is one of the most powerful trends in the digital world today. Video marketing helps to build brand awareness, and it also increases conversion rates in some sites. You can create several types of video marketing to market your products and services online. They include:
Informative videos: These videos inform or educate the viewers on how to do a particular thing or use a specific product.
Demo videos: These are videos that showcase your products or services to your audience.
Customer feedback and review videos: This video shows the positive feedback and reviews you have gotten from your clients or customers. This helps build credibility and trust with both your existing and potential customers.
Event videos: these videos provide information about a proposed event of your business which could be a conference, party, seminar, and so on. They also include capturing the event.
YouTube Marketing/Advertising
YouTube ads are one major way to make sure video content reaches the target audience, and unlike other channels listed above, YouTube ads operate differently.
There are certain restrictions and choices for this platform, and basic knowledge is needed before trying out the possibilities. Types of YouTube ads include:
Video discovery ads: These are also known as in-display ads. They run on Youtube search.
Overlays and banners: They appear on the right-hand sidebar as display ads with an image, text, and a CTA that leads to your site. This is a suitable video ad for marketers who do not have the budget for video creation. With these ads, you can still advertise on YouTube without a video.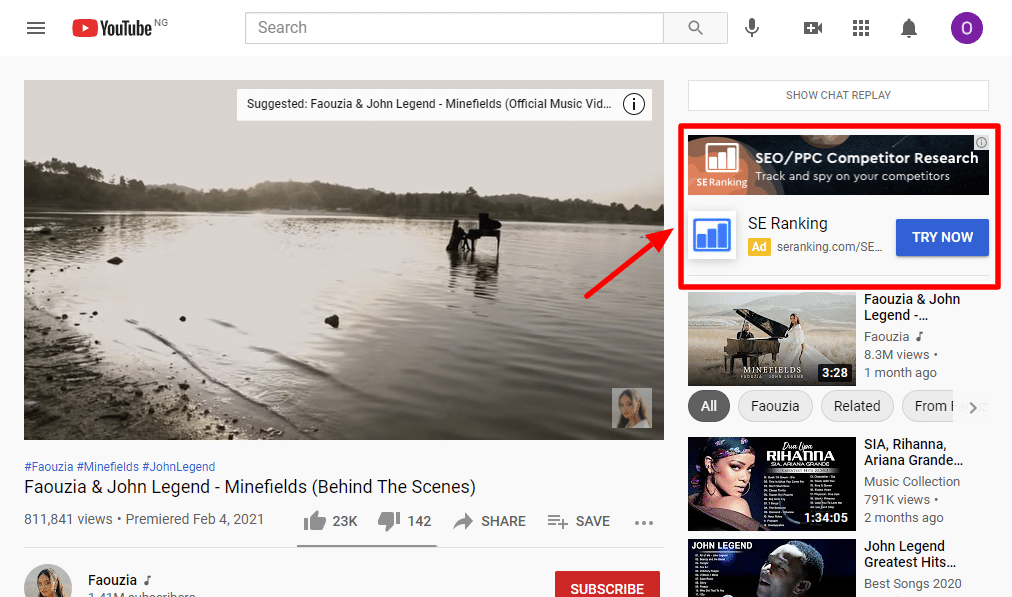 Skippable in-stream ads: These ads usually play before or during a video which is referred to as the "pre-roll" or "mid-roll". The limiting aspect is that watchers can choose to switch to the initial video after the first 5 seconds, but as an advertiser, you pay when they decide to keep watching after those first 5 seconds.
Non-skippable in-stream ads: As the name implies, these are YouTube ads that don't provide skip buttons. So, they have to be short and are best used for awareness campaigns.
Email Marketing
Email marketing is one of the most influential digital marketing channels. Many companies and businesses spend a significant quota on email marketing and promotion yearly, and there is no other reason for this than the huge results they get from it.
An email campaign is an excellent way to increase your traffic, leads, and sales. It also provides you with the opportunity to stay in touch with your customers by updating them with information on your new products and services and upcoming events.
For email marketing to be successful, it's important to have a quality email list, personalize the emails, and use a great CTA to enhance click-through rates.
You can also maintain a consistent engagement with your customers through weekly or monthly communication. The email newsletter content should be captivating, convincing, and persuasive enough so that the readers don't see it as a waste of their time.
To use email marketing effectively, the following should also be in place:
A captivating and time-sensitive subject: This is very crucial as it is the determinant factor to whether your email will be read to the end or not. Your subject must be able to grab the attention of your readers from the very start.
Personalize your email marketing campaigns: Address them with their first names and use personal language like "hey," but it should be more than that. Send emails when it's their birthday and anniversary if you have that information. Send emails concerning products they have engaged with on your site.
Use incentives: You don't need to do this all the time, but if you are sending certain emails, incentives go a long way. It could be discounted on the next purchase to incentivize the reader to give a review, for example.
Search Engine Optimization (SEO)
Thousands of search queries are carried out on Google search every second! That's several people searching for different things on the internet that could buy from you. These are opportunities for businesses.
Prospective buyers tend to purchase goods or services from the websites that come first on their search engine results; therefore, getting to that number one mark is key to conversions with SEO.
With SEO, content is key (along with a ton of other factors). The better your content, the better your search engine rankings and traffic will be. Note that you shouldn't expect immediate results from SEO. For example, with PPC, you can get immediate results, but SEO usually takes 6-9 months for a new site. Just be consistent.
To improve your rankings on search engines, you need to embrace the current SEO practices, including keyword research and optimization, credible and linkable content creation, technical optimization, etc. We have a detailed SEO course to guide you.
The benefits of SEO to a company include:
SEO enables your website to rank higher in search engines, thereby driving more traffic to your site and, in turn, more sales and revenue.
It helps you reach prospective buyers at the right time they are searching for your product or service.
SEO can help you gain credibility as an industry knowledge leader
SEO also helps marketers to increase their online presence. One of SEO's major disadvantages is that it requires skill and time and can get somewhat confusing and time-consuming for a beginner.
Plus, the algorithms that search engines like Google use to rank content are usually updated frequently.
However, SEO has been made easier with apps like Ahrefs and SEMrush, and SEO courses like ours. Also, many digital marketing agencies deliver extensive SEO services across different search engines.
Social Media Marketing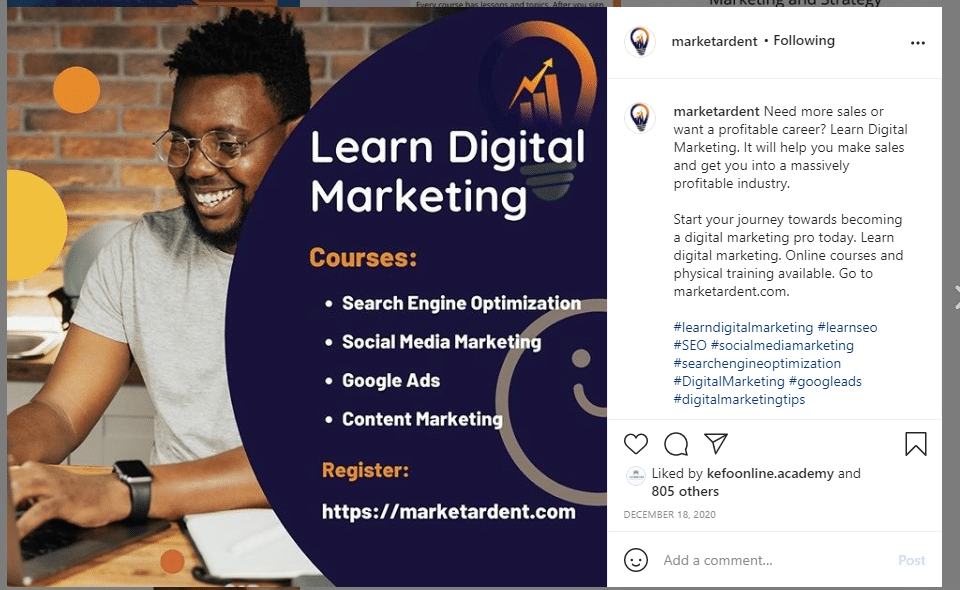 Social media marketing entails the use of content to promote your business on social media platforms. There are more than enough social media platforms through which you can do this.
Great content and hashtags are essential to success. Also, engaging with other accounts work.
Sponsored posts and paid ads are also available on most media platforms, and this could also be a great source of sales and revenue generation for your business.
Benefits of social media marketing:
Social media enables you to build a relatable public presence where people get to put a face to the brand and build a connection. It helps you build a relationship with people on these platforms, which increases your brand followers.
It is easier to start with compared to most other digital marketing avenues.
Paid social media marketing enables you to promote your brand with ads, so you are guaranteed faster reach and possible conversions compared to organic social media marketing.
Paid ads usually feature in the feeds of those that fall in the demographic and interests you bid for. It could be Facebook ads, Twitter paid ads, Instagram ads, and other social media campaigns.
With organic social media marketing reach getting harder to achieve, paid advertising is a go-to for many companies.
Native Marketing
Native advertising/marketing can be defined as digital content established for paid marketing of your brand on a media site that does not use a conventional ad setup such as a banner ad but uses edited content like infographics and blog posts.
It is a disguised advertisement; they are not easy to recognize as they blend easily into the platform's form and function.
Brands and advertisers treasure native ads, primarily as a result of the high click-through rates.
Several professional organizations have termed this strategy of digital marketing as vague and ambiguous.
Most publishers, bloggers, and website owners see native advertising marketing as a risky endeavor as they can make the page where it has been advertised lose its credibility.
Mobile Marketing
Mobile marketing is a multi-channel versatile showcasing; it is a promotional technique focused on cell phones, tablets, and other electronic devices, using websites, emails, SMS and MMS, web-based media, and applications.
Recently, clients have begun to move their considerations and money to mobile marketing. Various marketers and advertisers are also starting to make commitments to this digital marketing method.
To succeed using mobile advertising, you need to ensure your content is mobile-friendly. That starts from your website to your ad creative. For marketing like SMS, that doesn't matter as long as your message isn't excessively long.
Conversion Rate Optimization (CRO)
Conversion rate optimization (CRO) is the technique of boosting the number of website visitors who take the desired action, which could be filling out a form, buying a product/service, taking up a free trial, etc.
To get good results with CRO, you need to understand how users go through your site, their actions, and what hinders them from attaining your goals.
You can start testing with heatmaps and A/B tests. Aside from changes to images and content, you might need to change the website design code. So, for CRO, you might have to work with a web developer or the web development team.
How To Get Started With Digital Marketing For Your Business?
Gather Information On Digital Marketing
Before starting, it's necessary to educate and get the necessary information to understand digital marketing as much as possible.
To build your digital skills and expand your career or business, you might need to take online courses, watch YouTube videos, or read books/blogs on digital marketing.
Identify Your Marketing Goals
Before embarking on any digital marketing, it is always important to set your goals first. They will serve as a constant reminder of what you want to achieve and help you create KPIs to measure your marketing against your goals.
Set Clear KPIs Or Benchmarks
KPIs are the key performance indicators. They help you know if your digital marketing strategies are helping you meet your goals.
Whatever KPI you choose has to be in line with your goal and channel. For example, if your goal is to increase monthly search traffic on your website, your KPI could be 1000 unique monthly traffic or a 20% increase in unique monthly traffic by March.
Don't wait till the end of your campaigns to track your KPIs. Do them periodically during your campaigns.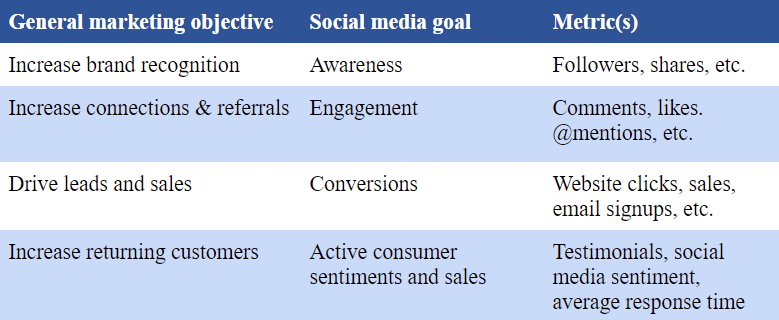 Set An Appropriate Marketing Budget To Meet Your Goals
Budgeting is important. Set aside a budget from your revenue to be spent on learning and employing digital marketing in your business. For most companies, 10-15% of the revenue works for digital marketing.
What you set aside will depend on your goal and the channels you chose.
Solidify Your Sales Process To Convert Incoming Leads
The goal of marketing at the end of the day is business growth. So, if you don't have a solid sales process, you might miss converting sales when you would have.
Be quick to respond to actions taken on your site, ranging from the little ones like subscribing to a newsletter to buying a product/service.
Automated email can be of good use here; you can deliver personalized messages to people who take action on your site to move them through the sales funnel.
Identify And Define Your Target Audience
Promotion, marketing, advertising, showcasing, and whatever name you call it would be useless or not produce desired results when it is not directed to the right audience.
It is crucial to define and identify your audience so you don't go amiss and waste money when you start your business or start marketing.
Do target market research, understand what makes them tick, and interest them if you want to convert them.
Choose Marketing Channels That Align With Your Audience, Goals, And Brand
Once you are done identifying your audience and knowing where you can access them, the next step is to choose suitable channels that go best with your business and target audience.
Different digital marketing channels have been listed above, and it is crucial to sit down, research them, and choose the best one.
It's not every marketing channel that would be relevant to your goal and audience. We looked into this in the social media marketing course concerning choosing your platforms.
Decide Between Doing It Yourself, In-house Staff, Or Getting A Freelancer Or An Agency
You need to know whether you want to delegate the work to someone else or you are okay doing it yourself.
If you are an entrepreneur just starting a business with very little or no marketing budget, it might be better to handle it yourself. To ensure results, take a marketing course or training.
If you don't have time for that or want results from now, it's better to hire someone specializing in every marketing area you need. You can get an in-house staff, freelance, or agency.
In-house, Agency, Or Freelancer? Which Should I Go With?
Go with an in-house digital marketer if you have the budget for a monthly salary and would rather have someone dedicated to only your brand. You can either hire someone to work remotely or from the office.
An agency is great if you want several talents hands-on. It would be more expensive to get that same talent in-house, in most cases. So, you can get an agency to save costs and still get quality.
Go with a freelancer if you want a great middle-ground between an agency and an in-house staff. Great freelancers are dedicated to their clients regardless of how many they are. However, they usually have niches and areas they specialize in.
Tips On Working With Digital Marketing Staff/Freelancers/Agencies For Success
Have a basic knowledge and understand the exact thing you want them to do. This will give you the confidence that you know what you want, but it will also prevent swindlers from coming your way as you can recognize them.
Search for the best agencies or freelancers yourself. Check their websites, Google My Business (or other local directories), or marketplaces like Upwork. Check their reviews and portfolios to see what they can offer. For in-house staff, posting a job on Glassdoor, Indeed, and similar sites are good.
Discuss with the freelancer or whoever is in charge of your account in the agency. Get to know their professionalism and competence through their words and how they interact with you.
Make Necessary Adjustments As Time Goes On
You should never set your strategies, budgets, and the way you implement them in stone. Always adjust as you go based on the results you get.
Digital Marketing Glossary: Digital Marketing Terms And Their Definitions
Google Analytics: This is web analytics that you can use to track all the events going on your website. Google Analytics presents your website analytics down to data on the website visitors, the time they spent on your site, the pages they viewed, demographics, where they come from, and so on.
Click-Through Rate (CTR): This is the rate of the number of people that clicked a particular link compared to those that saw your post, page, or link.
Off-Page Optimization: Off-page optimization is usually used when discussing all measures taken outside your website to boost your search traffic. That usually includes getting high-quality backlinks and brand mentions.
On-Page Optimization: This is also known as on-page SEO. It refers to all the measures you do directly on a website to rank higher in search engine results. That includes keyword research, content optimization, and content creation.
Web Traffic: This means the number of users who visit a website. There are two types of traffic: paid traffic (from ads) and organic traffic (search traffic & social media marketing).
Leads: These are individuals or organizations who show interest in the product/service you are selling. They might fill a form, drop their contact details, abandon their carts, or subscribe to your email list.
Automation: This is using software to handle repetitive tasks. One area it's often used is email marketing. Other marketing areas can also qualify depending on what you want. HubSpot is one popular marketing automation tool.
Backlink: This is a link placed on another website to direct a visitor of that website to yours. Such links can be in posts or pages of the other website. Creating such links is called link building.
Call to Action (CTA): This serves to let visitors know the action to take based on the other content presented. It's usually convincing and can be used on social media, blog posts, pages, ads, and emails.
Keywords: Keywords are search phrases or words that people use to search on Google, Bing, and other search engines. To show up for such queries, you need to use SEO tactics.
Landing Page: A landing page is a page that a visitor is directed to after clicking one of your ads or display ads; it could be long or short, it usually contains an image, convincing content, and CTAs.
Inbound Marketing: A classic definition of inbound marketing is that it is a method that attracts customers by creating valuable content and experiences tailored to them. It covers organic content marketing.
Did I Miss Anything?
That is all for digital marketing 101. If there's any area you want me to explain more, or you believe I missed, let me know in the comments.