We've done our research to find out the top online digital marketing courses. We have categories for the best digital marketing course overall and other top courses.
One of the best ways to learn digital marketing is through an online training course. Compared to traditional training techniques, online teaching methods are fast, convenient, and more effective. You'll get that from the top digital marketing courses on this list. A few offer physical training options if that's what you're into
If you're looking to have a profitable career or market your business and get good ROI, a digital marketing course is worth doing. You can learn social media marketing, search engine optimization, Google Ads management, copywriting, content writing, and so on.
If you're already a digital marketer, you might still need digital marketing courses to learn the newer tactics and trends to stay on top of the industry.
Some of these best online marketing courses are free, some are low cost, and some others aren't. Now, let's get into them.
Best Digital Marketing Course – Overall
Digital Marketing Course – Market Ardent (From

₦

0.00 –

₦

0.00 One-time)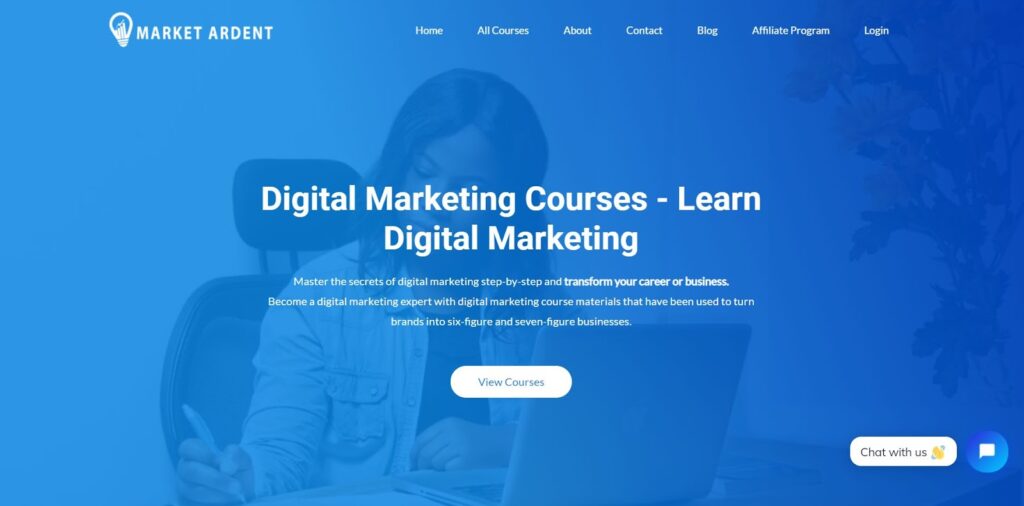 Features
The Digital Marketing Courses from Market Ardent helps beginners and experienced marketers transform their careers or business through step-by-step teaching of industry secrets.
The training is a complete package which covers every aspect of digital marketing, with courses such as:
Search Engine Optimization (SEO)
Google Ads (PPC)
Copywriting and Content Marketing
Social Media Marketing and Advertising
With this online training, you'd be able to optimize websites and increase traffic and rankings on search engines, create profitable content marketing campaigns, and understand all about advertising on Google, including advanced strategies that can positively push your ROI.
You'll also learn about organic social media and paid advertising, including creating content and conducting social media audits.
The digital marketing course is perfect for beginners who are looking to start a career in digital marketing. It's also suitable for knowledgeable digital marketers who'd like to improve their skills to remain competitive.
One perk about going with Market Ardent is that they provide career and business coaches to every student. So, whether you're looking to work as a digital marketer in-house, or you wish to start a freelancing or small business, the coaches to help you secure your next job or start your business right.
How Are The Courses Done
They offer online courses for the most part but also provide physical training in select locations only. The online digital marketing training comprises easy-to-follow bit-sized actionable videos and downloadable PDFs, Docs, and templates.
Market Ardent's digital marketing course is structured in such a way that you can purchase each of the individual courses separately. So, if you're looking to learn more about one aspect at a time, you only buy what you need.
Furthermore, they provide career and industry coaches for each digital marketing course you purchase, helping you scale your career.
Also, each course is taught by professionals in the digital marketing space.
Pricing
Market Ardent's digital marketing courses are offered separately at different costs. For example, the content marketing course is only ₦11,500.00 while the SEO course goes for ₦72,000.00. However, you can save on fees by purchasing the digital marketing training bundle at
Pros
Affordable digital marketing courses
Suitable for both beginners and advanced learners
The training module covers every aspect of digital marketing, leaving no stone unturned
Self-paced digital marketing online course
The courses undergo regular updates to reflect new industry practices
There's ongoing support available along with coaches
Cons
The physical training is limited to specific locations
Other Top Digital Marketing Courses
Digital Marketing Nanodegree – Udacity ($399 per month)

Features
Udacity's Digital Marketing Nanodegree program is a full-featured course suitable for anyone seeking to launch a digital marketing career. The training course covers every aspect of digital marketing with a syllabus that includes:
Marketing Fundamentals
Content Strategy
Social Media Marketing
Social Media Advertising with Facebook
Search Engine Optimization
Search Engine Marketing with Google Ads
Display Advertising
Email Marketing
Evaluating with Google Analytics
As part of the course, students will gain access to real-world experiences by running live campaigns on different marketing platforms.
There's also the live question and answer sessions and forum where participants can engage with top industry experts. Also, each student gets assigned to a technical mentor for personalized learning and advice on career services. This strategy is advantageous, especially to beginners who need a guide in building a digital marketing career.
The Nanodegree program covers a 10 hours weekly three-month training period. However, there's a custom self-study program where you can learn at your own pace and flexibility.
Pricing
The Nanodegree program costs $399 per month and $1,017 for three months of access. If you haven't completed the program after three months, you'll have to continue with monthly payments. The fee for this course is expensive, especially for individual freelancers or self-employed people.
Pros
A complete package that covers everything on digital marketing
Students get access to a technical mentor
It features real-world projects from industry experts
Customized learning available for busy students
Cons
The program fee is expensive and more suitable for big brands rather than individuals
It has a fixed date of commencement, irrespective of when you enroll
Digital Marketing Specialist – Simplilearn ($1,499 Per Year)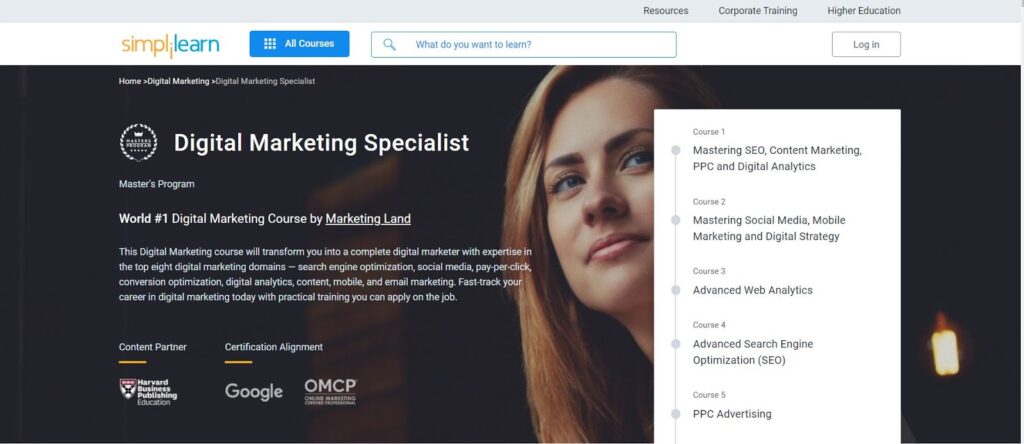 Features
Simplilearn's Digital Marketing Specialist Course is a Master's program for digital marketers who need to further their careers, especially those seeking leadership roles.
The course provides an in-depth understanding and advanced training on SEO, content, mobile and email marketing, PPC, web analytics, social media, and other disciplines. It also offers elective courses on advanced mobile, email and content marketing, advanced website conversion rate optimization, and Hubspot email marketing certification.
Students will have access to 40+ digital marketing tools, 100+ instructor-led live classes, an active community, and mentoring sessions from industry experts. The course also includes virtual simulations using Mimic Pro and Mimic Social, downloadable workbooks and apps, projects, and quizzes.
Cost
For one year of access to the online course, Simplilearn charges $1,499.
Pros
Teaches hands-on experience on how to execute digital marketing campaigns
Students get to earn Master's certificates at the end of each course
It offers an option for self-paced learning
Free access to several paid marketing tools
Cons
The course syllabuses are advanced and not suitable for beginners
The course fee is expensive
Digital Marketing Course – ClickMinded ($1, 997 one-time)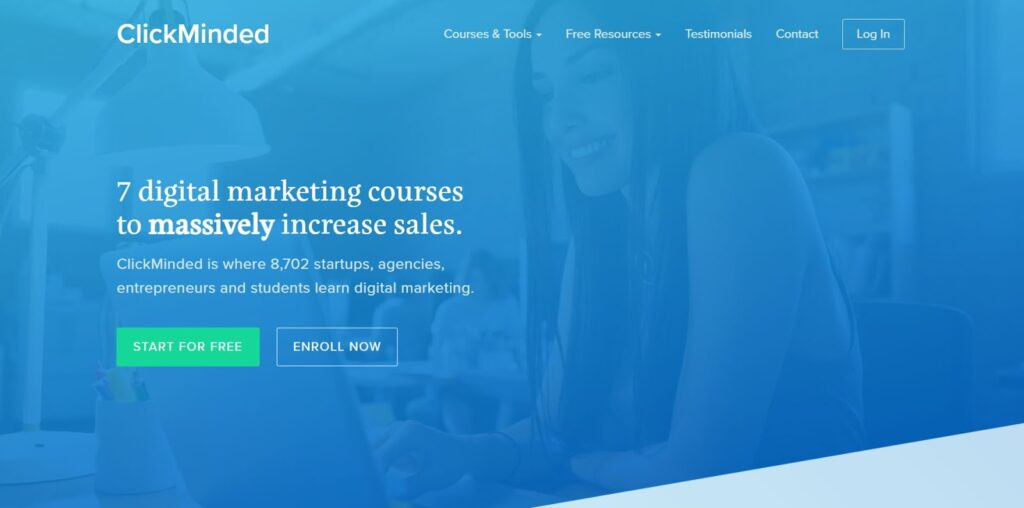 Features
Clickminded offers Digital Marketing training aimed at helping marketers boost their online sales. The course bundle covers seven individual courses, including social media marketing, content marketing, email marketing, paid advertising, sales funnels, web analytics, and search engine optimization.
Each course has an extensive syllabus and is taught by people actively working in the industry. If you register for this training, you'll get access to videos and downloadable slides to aid your learning. You'll also enjoy free updates for life and unlimited lifetime access.
All seven courses have exams and come with a certificate upon completion.
Pricing
The digital marketing bundle goes for a one-time fee of $1,997 while the individual courses cost $997 each.
Pros
Active industry professionals teach courses
Clickminded offers a free Digital Marketing Framework Masterclass that gives a sneak peek into the course
Cons
The course fee might not be affordable for everyone.
Marketing Training and Tutorials – Lynda ($29.99 Per Month)

Features
Lynda.com's Marketing Training and Tutorials Course are available through LinkedIn Learning. The program teaches everything from traditional marketing skills to digital tools and techniques. Students will learn about branding, public relations, SEO, PPC, social media marketing, and web analytics.
The course features training videos for each topic and is taught by expert instructors. Like Market Ardent's courses, most of the course materials are provided in video format and there are downloadable learning materials for offline use.
At the end of each course, students will earn a certificate to demonstrate their newly-found skills.
Price
You'll need to subscribe to LinkedIn Learning to gain access to Lynda.com's courses. The subscription fee is $29.99 monthly or $239.88 annually.
Pros
An excellent choice for beginners
The training features bite-sized videos
The subscription offers you access to other content on LinkedIn Learning
All courses are available for free in the first month
Cons
The training isn't rigorous enough, with a lack of sufficient learning materials
Besides the subscription fee, you might need to pay more to access downloadable materials
Blueprint Certifications – Facebook ($1,440 For The Certifications)
Features
The Facebook Blueprint Certifications equips individuals with advanced-level digital marketing proficiency using Facebook products and services. You can become a Facebook Certified Professional and earn the digital badge to prove your digital advertising competency.
The Blueprint program offers eight certifications. Here they are:
Facebook Certified Digital Marketing Associate
Facebook Certified Marketing Science Professional
Facebook Certified Creative Strategist Professional
Facebook Certified Media Planning Professional
Facebook Certified Media Buying Professional
Facebook Certified Marketing Developer
Facebook Certified Advanced Marketing Developer
Facebook Certified Advanced API Developer
Before taking the certification exams, you'll need to prepare by taking the online lessons recommended for each certification. Afterward, you'll take a 30-minutes practice test to familiarize yourself with the questions.
With the Facebook Blueprint Certifications, you should be able to improve your ad campaigns. However, since the course content around Facebook's app and service, you will not learn about other digital marketing essentials, including advanced copywriting, which is essential to ad campaigns' success.
Price
While the course lessons are free, each certification exam costs $150 and certifies you for one year.
Pros
Beginner-level and advanced-level certifications available
Suitable for individuals seeking a digital marketing career around only Facebook
The lessons are in-depth and well detailed
Affordable exam fee
Cons
This digital marketing program is only centered around an understanding of Facebook.
Online Marketing Course – Copyblogger (Free)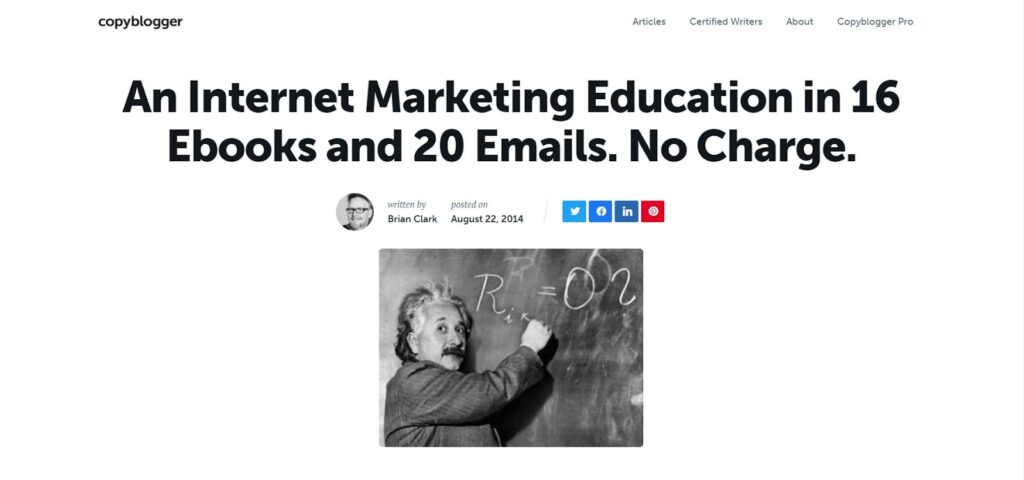 Features
Coppyblogger's Online Marketing Course teaches how to combine social media, content marketing, and SEO to generate leads. The course teaches how to create great content such as sales copy, landing page, and articles for any successful digital marketing campaign.
It's a 20-part course delivered as newsletters through weekly emails. There are also 16 downloadable ebooks to aid your learning. Additionally, the training program features behind-the-scenes lessons on how Copyblogger put their marketing system together.
This online marketing course focuses solely on content marketing strategies and is perfect if you're seeking a professional content marketing career. However, while it touches on SEO and social media, it doesn't teach them in detail. Additionally, the training program doesn't cover other important aspects of digital marketing.
Pricing
The course is free and only requires you to register with your email address.
Pros
The course is suitable for both beginners and advanced students
It's ideal for individuals who want to build a career in content marketing
It is a free course
Cons
The course is limited to content marketing, with few lessons on SEO and social media
There are no sufficient materials to aid learning
While the syllabus is suitable for beginners, it might be challenging to catch up without a support forum
Masters in Digital Marketing – Digital Marketing Institute ($11,850)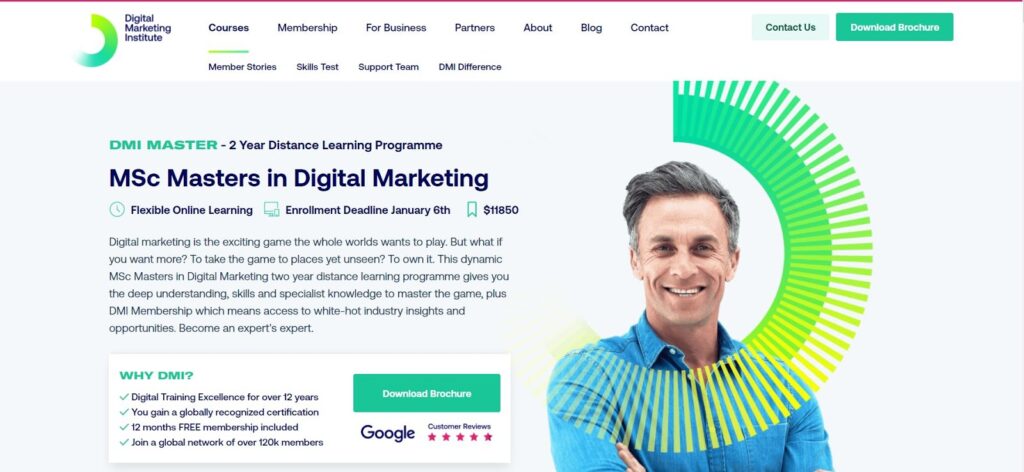 Features
Digital Marketing Institute's Masters in Digital Marketing is a rigorous 2-year program that offers deep understanding, specialist knowledge, and advanced skills. If you're looking at earning an online master's digital marketing certificate, you can consider this course.
The program consists of two parts. The first part is the "taught stage," which lasts for approximately 14 months. It consists of 90 hours of on-demand videos, downloadable slides, assignments, and research papers. Furthermore, part 1 includes six learning modules, such as:
Communications and Consumer
Search Marketing
Mobile Marketing
Social Media Marketing
eCommerce and email
Digital Strategy and Planning
The second part of the Master's program is the "research stage," which lasts for ten months and includes a 15,000-word thesis.
The entire program incorporates short breaks between modules and stages to allow you to undergo the training at a suitable pace. Also, you'll have an opportunity to join a global network of community members.
Tuition
This Master's program is the most expensive digital marketing course on our list, with a fee of $11,850.
Pros
The program comprises a rich syllabus to prepare students with skills in marketing
It is a part-time program with a pace to suit students
Cons
As a Master's program, the training isn't open to everyone, and it has strict eligibility requirements
The course fee is quite expensive
Not beginner-friendly
The time commitment that is required is a lot, so it isn't the best for someone looking to get started soon
Digital Marketing Specialization – Coursera ($302 per credit hour)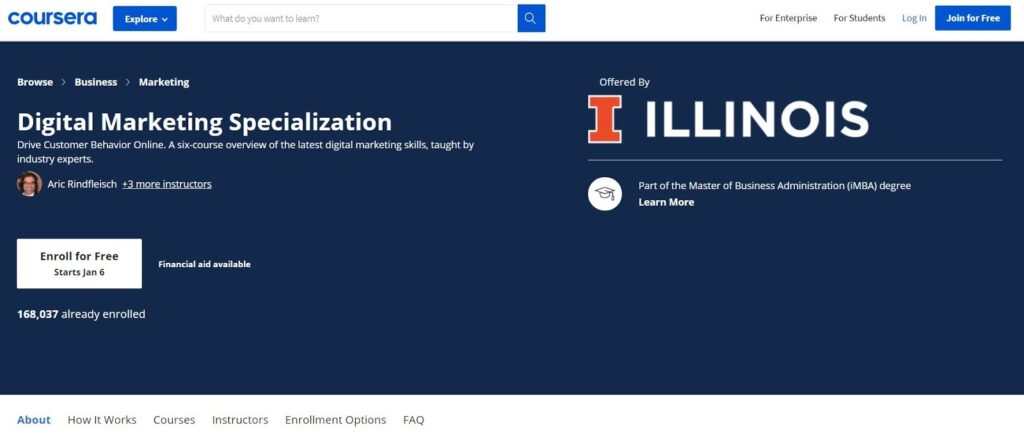 Features
Coursera's Digital Marketing Specialization Course is part of the University of Illinois' Master of Business Administration (iMBA) degree program. It is a beginner-friendly course designed primarily for novices with no prior knowledge of digital marketing.
The specialization course contains seven individual courses covering digital marketing analytics, social media marketing, social media optimization, and 3D printing. Students gain knowledge through videos, case studies, hands-on projects, and interviews with industry experts.
The program's duration is eight months at five hours per week and comes with a certificate to highlight your new skills. However, the teaching methodology that the course adopts is more theory-based than practical. Also, it doesn't include mentorship or on-demand support for students.
Pricing
The tuition fee is $302 per credit hour, and each course is four credit hours. Students also have access to financial aid.
Pros
Self-paced learning option available
It offers open availability so that individuals at experience level can register
Cons
No on-demand support for students
Practical training coming at the end of the course makes it more theory-based.
Digital Marketing Courses – Digiteers ($1,345 For Each Digital Marketing Course)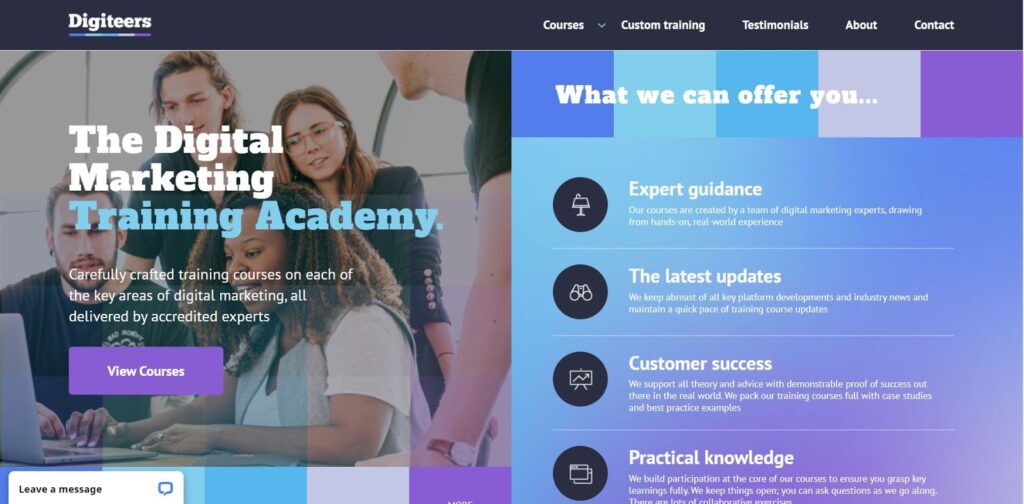 Features
Digiteers is an online academy that offers Digital Marketing Courses that focus on selected areas of digital marketing. The courses include:
Google Analytics Intensive
Digital Marketing Intensive
Social Media Marketing
Digital Product Management Intensive
User Experience Design and Testing Intensive
LinkedIn Recruitment Intensive
You can choose one or more of these courses, depending on your needs. All the courses are live real-time training with industry experts. They also include question and answer sessions and exercises.
The classes aim to foster in-person participation and interaction with class members and faculty trainers.
Furthermore, you can choose from a list of pre-planned dates and time zones suitable for you. Besides general classroom training, Digiteers also offer custom training to fit a person's busy schedule.
Pricing
The LinkedIn recruitment course goes for $665 while the other courses are $1,345 each.
Pros
The courses are detailed and in-depth
Training is via a live class that fosters interaction
One-on-one mentorship available
Cons
Courses are costly and might not be pocket-friendly
Since the classes run at specific times, the timing might not be favorable for everyone
Digital Marketing Certification – Directive Consulting Institute ($99 Per Month)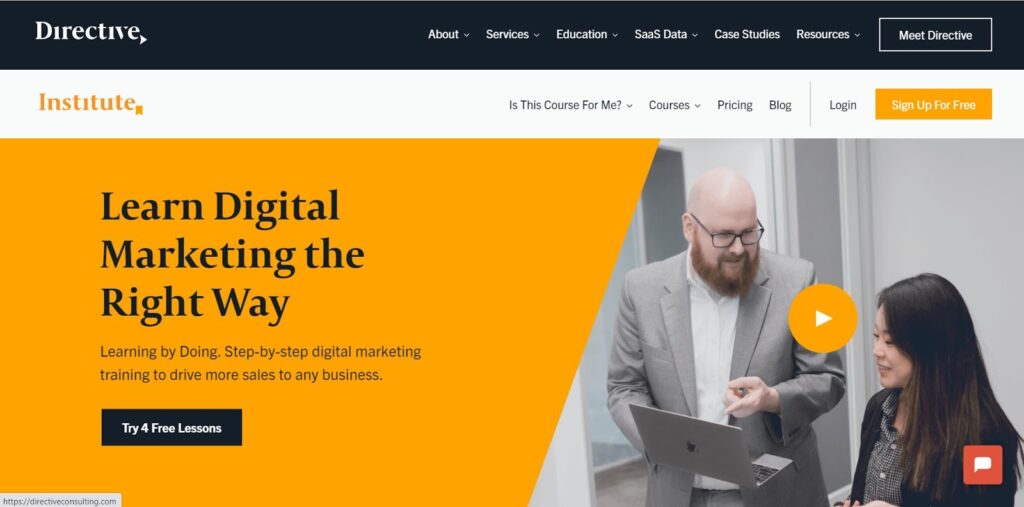 Features
This Digital Marketing Certification aims to teach students how to apply digital marketing strategies to drive sales. The course is suitable for individual marketers and team members in an agency.
The training program covers five main aspects of digital marketing; SEO, PPC, CRO, and Analytics and Optimization. It comprises over 40 video lessons, with almost 13 hours of content and step-by-step written guides. You'll also have access to tools and templates to aid the learning process.
At the end of the course, you should be able to build Google Ad campaigns, help a website rank, and successfully audit your marketing campaigns. Additionally, Directive Consulting Institute will issue you an official certificate to prove your skills.
Pricing
The complete course goes for $99 per month.
Pros
The lessons comprise of real-life campaigns carried out by the instructor
Students can complete the video lessons in a short time
Cons
The course fee is quite expensive for a monthly commitment
Wharton Digital Marketing Professional Certificate – edX (University Program – $2,106)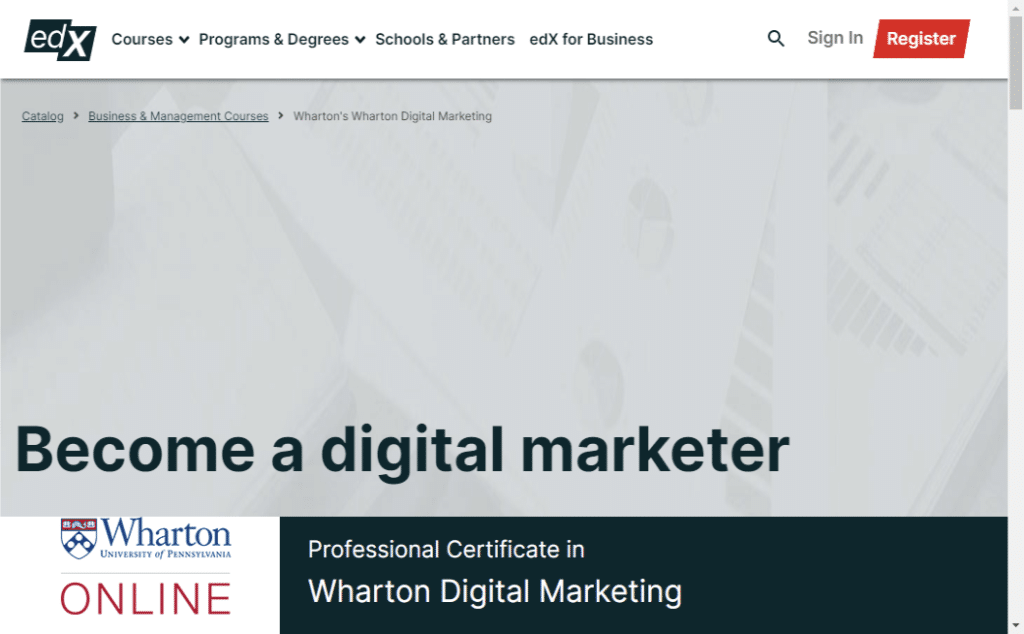 Features
The Wharton Digital Marketing Professional Certificate is from The Wharton School of the University of Pennsylvania and delivered via the edX platform. If you're seeking a professional certificate in digital marketing from a college or university, this program might be suitable for you.
The syllabus covers the fundamentals and advanced aspects of digital marketing. While there are four major courses, you'll gain skills in omnichannel marketing, marketing analytics, social media strategy and analysis, and managing customer relationships.
The coursework is for a duration of 6 months for 3-4 hours a week. However, there's an option for self-paced learning.
Pricing
The full program costs $2,106
Pros
It teaches proven techniques on how to increase profitability
You can learn at your own pace
The course is perfect for both beginners and seasoned professionals
Cons
It is an expensive course
The time required might put you off
Digital Marketing Bootcamp – JobPrepped (Up To $499.99 Per Month)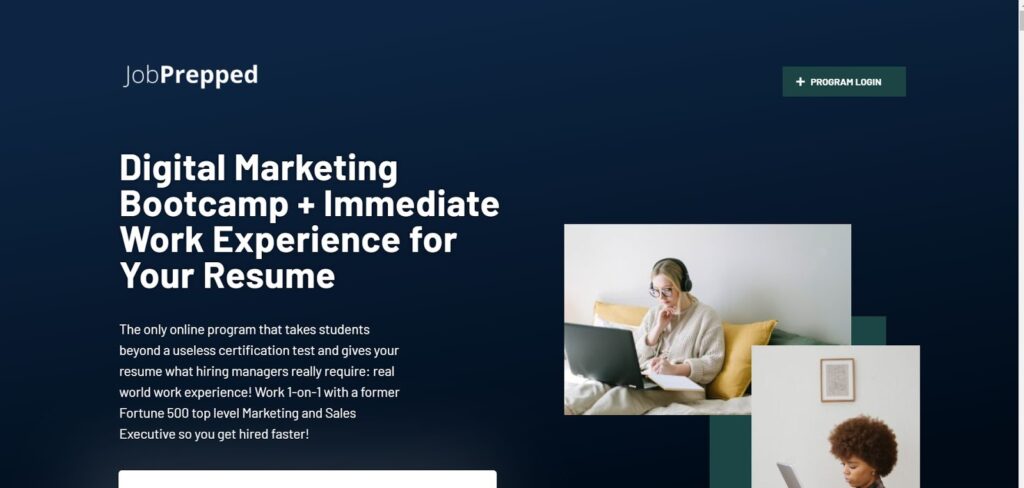 Features
JobPrepped offers digital marketing training to equip students with in-demand digital marketing skills and experience. The topics covered include social media marketing, email marketing, search engine optimization (SEO), and pay-per-click (PPC).
The program comprises on-demand training videos, a 500+ page ebook on digital marketing, and guides on resume writing and interviews. There are also weekly group sessions with the course instructor where students receive feedback on their assignments.
JobPrepped offers three packages for this digital marketing training; Basic, Hire Me, and All-Star Candidate. Each contains specific offerings, and you can choose among any, depending on what you need.
Pricing
The Basic, Hire Me, and All-Star Candidate packages cost $199.99, $349.99, and $499.99 per month.
Pros
The course helps you gain work experience by taking real tasks from JobPrepped
The training includes resume and interview lessons
Cons
The course prices might not be affordable for everyone
Digital Marketing Pro – American Marketing Association (AMA) ($1,725 one-time)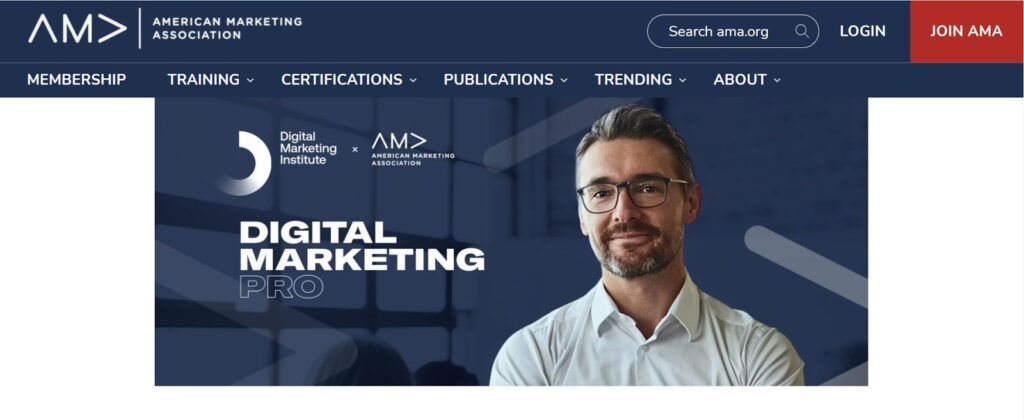 Features
The Digital Marketing Pro program is an online learning course that covers basic and intermediate aspects of digital marketing. Some of the topics covered include social media marketing, SEO, PPC, email marketing, Google analytics, and display and video advertising.
The program consists of 30 hours of self-paced learning. Afterward, you can take the exam at a scheduled time. However, while the learning process is online, the exam is usually at a physical testing center.
The American Marketing Association (AMA) offers this digital marketing certification in partnership with the Digital Marketing Institute. Upon completing the program, students will receive two certifications from AMA and DMI: PCM Digital Marketing and Certified Digital Marketing Professional.
Pricing
The training cost $1,725.
Pros
A dual certificate program in digital marketing
A beginner-friendly course
It offers self-paced learning
Cons
It might not be affordable for freelancers who're just starting out
The exam is not online, which might be challenging for individuals not residing within the physical testing centers
Digital Marketing Certifications – GetResponse ($199 Per Module)

Features
GetRespone's Digital Marketing Certification Program features topics like email marketing, content marketing, market automation, landing page, and conversion optimization, and inbound sales. Each discipline comes with its certification.
The courses feature on-demand videos with lessons taught by industry experts. You'll learn how to build more traffic to your landing page, craft marketing messages for your business, and distribute your content to build your brand.
However, GetResponse is an email marketing software company. Therefore, the majority of the lessons' focus is on copywriting and email marketing.
Pricing
Each module costs $199.
Pros
Suitable for people looking to build a career in email and content marketing
The course contains an in-depth syllabus with detailed lessons
Cons
The course doesn't feature some vital aspects of digital marketing, such as SEO and social media marketing
Not suitable for beginners
Digital Marketing Strategies – Kellogg School of Management ($2,600 For The Program)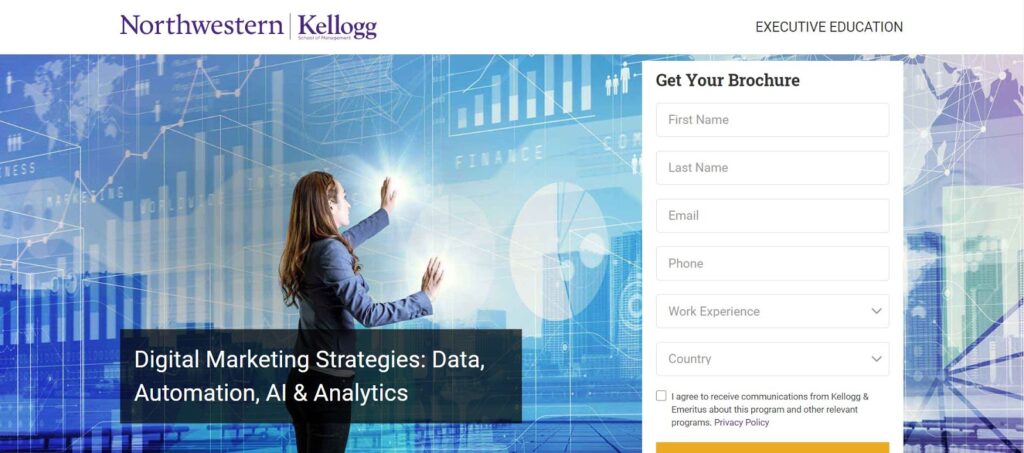 Features
The Digital Marketing Strategies Program is suitable for marketing team managers, business leaders, and marketing professionals. The program focuses on using digital strategies such as data, automation, AI, and analytics to help marketers keep up with technological trends.
The course consists of eight modules that include both theoretical and practical approaches to learning. Students will work on a Marketing Transformation Challenge by identifying and solving a business challenge with a marketing solution during the program.
A digital marketing expert leads the program, and it runs for two months at 4 – 6 hours weekly. Upon completing the program and obtaining at least an 80% pass score, you'll receive a certificate of completion.
Pricing
The program cost $2,600
Pros
The course teaches the use of new technologies in digital marketing
It features real case studies of organizations using new marketing technologies
Cons
It's an advanced-level program and not suitable for beginners
The program's fee is steep
Online Digital Marketing Courses – SEMrush Academy (Free)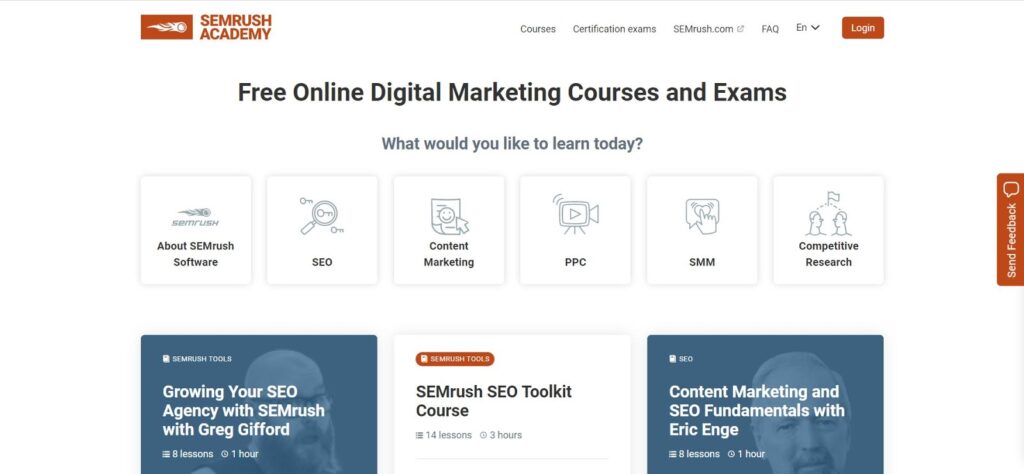 Features
While SEMrush is known for its digital marketing tools, it also offers courses through its online academy. The digital marketing courses are taught by reputable industry professionals and cover both basic and advanced lessons.
SEMrush has over 25 digital marketing courses covering SEO, content marketing, PPC, affiliate marketing, social media marketing, and competitive research. They comprise both video and text lessons with tips on applying digital marketing knowledge in the field.
The majority of these digital marketing courses aim to help individuals use SEMrush tools to better run successful campaigns. As such, the courses may not be suitable if you're not interested in using SEMrush tools.
Pricing
All courses from SEMrush Academy are free.
Pros
A free online course
Teaches you how to use SEMrush correctly
The course content is informative and properly structured
Cons
Not suitable for individuals who don't work with SEMrush
Lessons are limited to SEMrush tools only
It doesn't go in-depth into more than using SEMrush's tools for digital marketing, and that can be quite limiting if you want to become an expert digital marketer.
Those Are The Top Online Marketing Courses, Which Course(s) are You Going For?
Gaining digital marketing skills is essential if you intend to keep up with today's digitally centric consumers. Marketing has long evolved from using only conventional methods to a mix of both, or for some businesses (especially small ones), only digital.
Digital marketing is one of the most sought after disciplines. With your new certification, you can stand out from the crowd and have a competitive advantage.
If you're not sure of the digital marketing course area to focus on, we can help you. Send an email to hello@marketardent.com, and you'll get access to a free consulting session with a career coach.
What course have you decided to go with? Do you have any other questions? We would love to see them in the comments.