A high click-through rate is key to a successful content marketing strategy. While having great content and good rankings are vital, if you're not getting sufficient clicks on your post, your efforts will be worthless.
In this article, I'll explain the importance of having a high click-through rate and ways to improve your organic CTR on Google and Bing. If you would like to jump straight to the ways to improve your organic click through rate, use the table of content below.
What is Organic Click-Through-Rate?
Organic click-through rate (CTR) is the number of clicks your page receives divided by the number of times it appears in search engine result pages (SERP).
The number of times your page appears on search results after a search query is called impressions. Organic CTR is expressed in percentages and calculated as:
Organic CTR = (Organic clicks ÷ impressions) * 100
A high percent of CTR means you are getting more clicks per impression. However, a low CTR means web users aren't clicking on your page in SERPs.
Why It's Important to Improve Your Organic CTR
One good news about improving your organic CTR is that constant clicks are sufficient reasons for Google to move your page higher in rankings. While Google doesn't say much about this, it's known that the search engine's algorithm views a high user engagement as vital in its ranking factors.
Of course, if you're considering an increase in your CTR, it means you're probably already ranking on the top 10 results. However, moving just one spot higher in rankings can further improve your CTR by 30.8%.
Additionally, a high CTR means you're getting more clicks. It translates to more visitors or traffic and more sales. Thus, you'll generate revenue from your existing content while spending less on your digital marketing budget.
Ways to Improve Organic CTR on Google and Bing
Measure Your Current Work
Measuring your current work is a good way to start. It can help you identify your lowest CTR content to enable you to make adjustments to already published posts. Even after working on your CTR, it's vital to check your results regularly.
You can easily download analysis of your traffic from your Google Search Console. After login in, click on performance. The results will show your total clicks, total impressions, average CTR, and average position.

Then select queries and sort by impressions to see the keywords that have good impressions but low clicks. These are the keywords you'll need to improve. You can begin from the queries with a lower CTR than your site's average and work on them first.
Additionally, Google Search Console can give you results of your CTR on tablet and mobile devices. Click on devices to get your CTR for each device.
When you click the drop-down, you'll get a comparison of your results across devices. It can help you determine the challenges your site visitors are experiencing on other devices.
Optimize for Long-tail Keywords
Highly focused and well-defined search queries usually comprise long-tail keywords. Unlike single keywords that are generic, long-tail keywords offer precise search intent.
For example, if a web user searches for "SEO," the results could range from SEO courses to tools. Since the search engine doesn't know exactly what they want, many of the results might not match their intent. Those pages will definitely have a low CTR for that keyword.
However, if the user searches for "best SEO training courses," the search engine is sure of what they want. Therefore, the results will suit their search intent better. If your site ranks on SERP for this long-tail keyword and they click on your content, you'll get a higher organic CTR.
You can use SEO research tools like SEMrush, Ubersuggest, and Ahrefs to get permutations of keywords that people use on search engines.
On Ubersuggest, for instance, enter your keyword and click 'search.'

Then, click 'keyword ideas' on the left sidebar.
You'll get several keyword ideas under different groups like 'questions' and 'comparisons.
Ubersuggest also shows you the volume of searches each keyword gets, the average cost per click for Google ads, and other data.
Craft Powerful Meta Descriptions
Meta descriptions help users understand what your content is before visiting your page. Although they aren't criteria for ranking, they can determine if visitors will click on your link. With high user action, your CTR will be higher, and your page rank can even increase.

Craft a powerful meta description that is descriptive and focuses on the intent of the content. It should contain the focus keyword and be persuasive enough for users to want to click. Your meta description is like an elevator pitch. It's essential to make appropriate use of the opportunity.
Search engines typically truncate meta descriptions above 160 characters, so it's best to keep it below the limit.
If you don't write a meta description yourself, Google will automatically take a part of your post and use it as the meta description. However, it might not be the best possible meta description for your content.
Also, you should be aware that Google often rewrites meta descriptions. Still, pages with these descriptions receive 5.8% more clicks than pages without one.
Create Eye-catching Page Titles
The first part of your content that users see on search results is your page title. If you're going to improve your click-through-rates, you'll need to create catchy, creative, and winning titles that'll entice searchers to click on your link.

Here are some tips on creating eye-catching title tags:
Include Target Keyword
Just like your meta description, your page title should include the focus keyword. It'll help the search engine know what to display on the SERP and inform the user about your content.
Use Power Words
Incorporate power words into your title tags to make your page stand out and attract clicks. Words like 'amazing', 'powerful', 'huge', 'instant', 'discover' and 'unbelievable' are examples of persuasive terms that get readers' attention.
For example, "10 unbelievable ways to cook noodles" will elicit more clicks than "10 ways to cook noodles". Therefore, try to include at least one power word in your page title.
Get Emotional
It's essential to add emotional hooks to your page titles as many people make decisions based on feelings. Feed adjectives that trigger fear, joy, anticipation, hope, and interest into your potential visitor's mind, and you'll see improvements in your CTR.
Ask Questions
Most of the title tags with questions have better CTR than those without questions. For example, a page title with "which is the best resort in Lagos?" will attract more clicks than "best Lagos resort."
The reason is that most people regularly ask questions on search engines. Additionally, voice search, which is mostly question-ladened, has become a popular way of finding answers online. As such, internet users are attracted to titles asking similar questions as theirs.
You can do keyword research on sites like Ubersuggest to find common questions people ask around a particular search term.
Include "How To"
Titles that begin with the phrase "how to" makes users curious. They'll rather click to find out "how to make a banana cake" than read about "the fundamentals of making a banana cake."
Add Numbers and Year to Title Tags
People love lists. Therefore, incorporate listicles in your content and reflect the numbers on the page titles. For instance, our title "15 ways to improve organic CTR on Google and Bing" is more attractive than a headline without the number.
Similarly, adding the current year to your title tags can boost your CTR.
Utilize Proper Formatting
It's essential to use proper formatting tools like brackets, hyphens, colons, separators, arrows, and emojis. According to HubSpot, titles containing brackets can increase clicks by 40%.

Keep Title Tags Short
When creating title tags, it's vital to keep them short. The reason is that Google truncates titles that exceed 65 characters or 600 pixels, and a cut-off title tag is bad for CTR. In other words, readers can't fully understand what a post is about when you have incomplete titles and won't click on your link.
Furthermore, research from Backlinko proves that title tags between 15-40 characters have an 8.6% higher CTR than links outside that range.
Bing offers a maximum limit of 65 characters. However, titles with 65 characters are often cut off, and it's best to keep it at 60 characters.
Analyze Your Headlines
Headlines are what firsts attract people to click and read the rest of your content. As such, it's vital to analyze different headlines to get a good one.
You can use CoSchedule's headline analyzer tool to get an analysis of the structure, grammar, and readability of your headline.
If you use WordPress, the plugin called Title Experiments can identify which of your titles will gain more attention. You'll need to enter a title and one or multiple variations to see how they perform against each other.
Optimize Your URLs
Your URL is another default element of your page that displays on SERPs. By looking at your URL, web users can know what your content is about, which can increase your CTR. Here are ways to optimize your URL:

Be Descriptive
Your URL should be descriptive and related to the page content or topic. According to Microsoft, descriptive URLs get 25% more clicks than generic URLs. Here's an example of a bad URL:
https://www.example.com/category=url/productID=4232?
Here's an example of a good URL:
https://example.com/-tips-to-optimize-your-url
Remove Superfluous Elements
Your URL shouldn't contain numbers and special characters. It's also not necessary to include words like of, on, at, the, a, etc.
Include Focus Keyword
One vital aspect of optimizing your URL is to include the main keyword you're targeting. It offers clarity and positively impacts CTR.
Make it Short
Short URLs are easier for readers to glance through. Since long URLs take more reading efforts, potential visitors can easily skip to the next result.
Implement Schema Markup to Get Rich Snippets
Rich snippets can help enhance the information on your site when it appears on SERPs. They bring visibility to your landing page, which elicits more clicks. For instance, a regular search result will show the page title, URL, and meta description of your site.
However, by using rich snippets, your landing page can display more interactive content and visuals. When users see your result on SERP, they are more likely to click on your link since the information closely matches their intent.

You can add rich snippets by implementing schema markup. It means you'll have to add HTML markups to your page, such that Google can identify certain elements in your content and display them on SERPs. Some rich snippets you can get from incorporating schema markup includes:
Reviews
FAQpage
Recipes
Videos
Price
Product features
Images
Anchor links
Breadcrumbs
Tables etc.
Here's an example of a link with breadcrumbs schema markup:

Breadcrumb navigation can help users to see your content's structure and its relevance to their search query. It also provides extra clickable navigation options to help them get straight to the information they need from your post.
With rich snippets, you can occupy extra space on the SERPs and catch users' attention.
Optimize Your Content for Featured Snippets
A featured snippet is the most appropriate answer that Google recommends to a user based on his search query. It usually appears as the first result before any organic result. As such, it grabs the user's attention before other pages.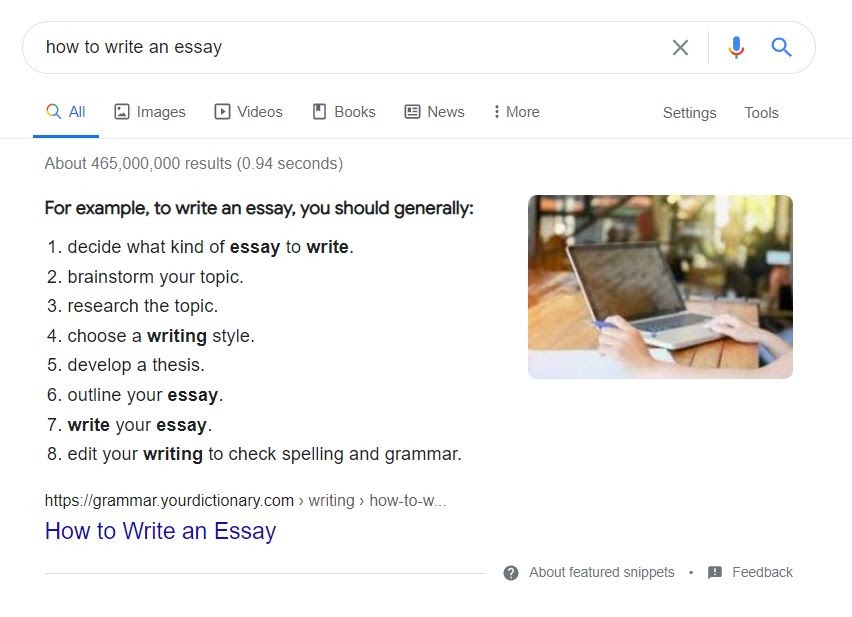 Additionally, web users view any website that gains the featured snippet position as trustworthy since Google chooses it from several websites.
If you want to increase your organic click-through-rates massively, you should aim and optimize for featured snippets. You can achieve this task by tailoring your content around the questions that users are asking.
Incorporate Visual Content
The brain processes visual content 60,000 times faster than it does text. Whether it's an image, a video, an infographic, or a gif, visuals are a must for any content marketing strategy.
Email campaigns with images have 42% click-through-rates, and content with images gets 94% more views than those without images. Also, four times as many customers would rather watch a video of a product than read about it.
As such, websites with visual content increase engagement by 180%. In the long-run, websites with high engagement and higher dwell time can get better search engine rankings because Google feels like they have great stuff on their site, which can improve their organic CTR.
However, if your content is full of text with no visual appeal, users won't be excited about your page. This action could increase your bounce rate, which might indirectly affect your quality score and your chances of earning clicks.
Furthermore, it's vital to optimize your images with alt text, title, and caption. These elements help search engines, the visually impaired and other web users understand more about your image.
Fix Keyword Cannibalization
Keyword cannibalization occurs when you have multiple posts or pages targeting the same keyword. As a result, you'll be competing with yourself, and search engines may become confused on which content to rank higher.
Keyword cannibalization eventually divides the CTR for each of those pages, splits your conversion rates, and diminishes your website's authority. Therefore, it's advisable to fix any keyword cannibalization on your site and dedicate your organic clicks to one page instead of ten.
You can identify keyword cannibalization by searching for a particular keyword on your website's search widget. If the results display multiple URLs, that's cannibalization. You can also use Google Search Console and the "site:" command to analyze your site.
Then apply different effective strategies to fix the keyword cannibalization.
Optimize Your Post
Before publishing any post, it's advisable to preview and optimize your content. Similarly, you can optimize your page after publishing, especially if you realize you're not ranking high. Based on our experience, on-page SEO can help you increase clicks by up to 100%.
Using content SEO research tools like PageOptimizer Pro and Surfer or the Frase.io website are great places to start.
I have used all three and love them. On PageOptimizer Pro, input your domain, main keyword, target location, and select your focus competitors. For published posts, input your URL.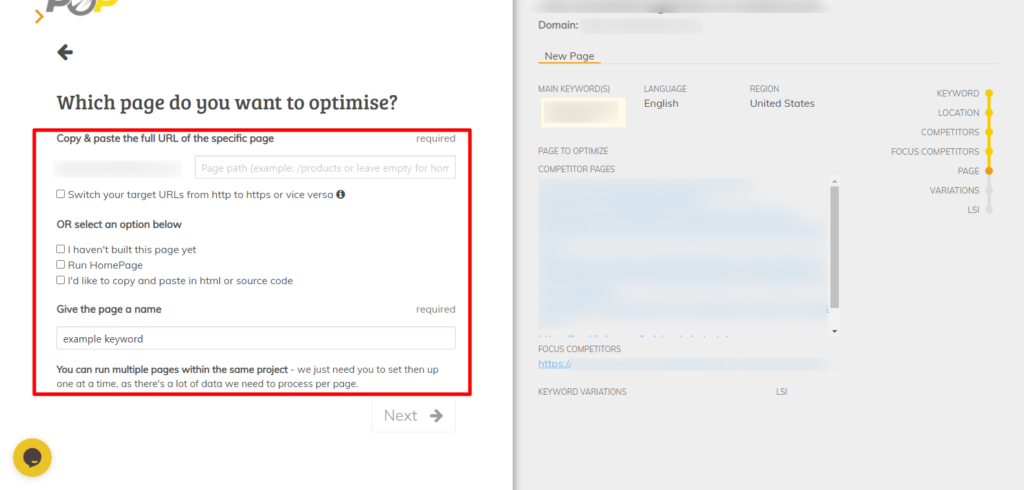 Go through the next step to see the suggestions. It also has a content editor so you see your progress while at it.
Surfer and Frase.io are similar. Here's Frase's content editor.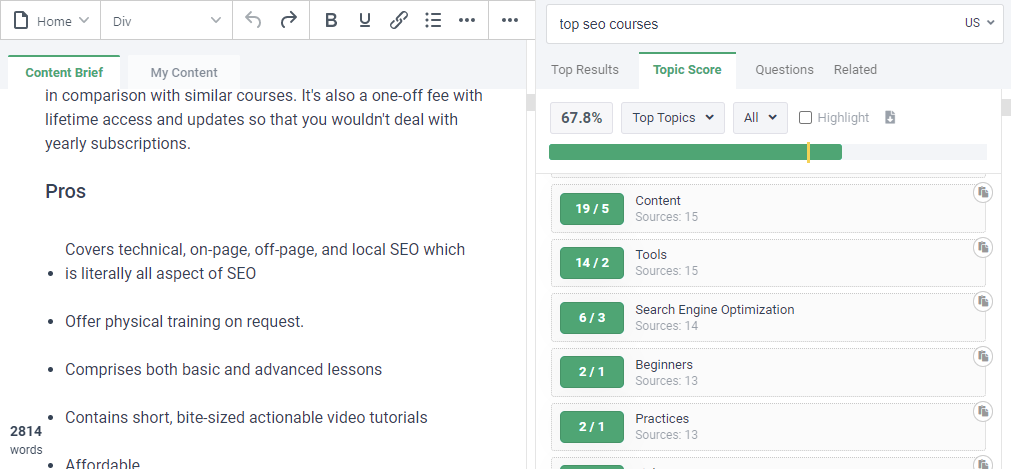 Running your page through such tools helps you benchmark your content against your competitors and see what you should do to rank higher. With better rankings, you can get more clicks to your site.
If you use WordPress, you can also utilize tools like the Yoast SEO tool and Rankmath to preview your content. While writing, Yoast allows you to see a preview of your snippet as it'll appear on SERPs. It can also guide you in writing your title and meta description by giving you character limits and ensuring you fix the right keyword.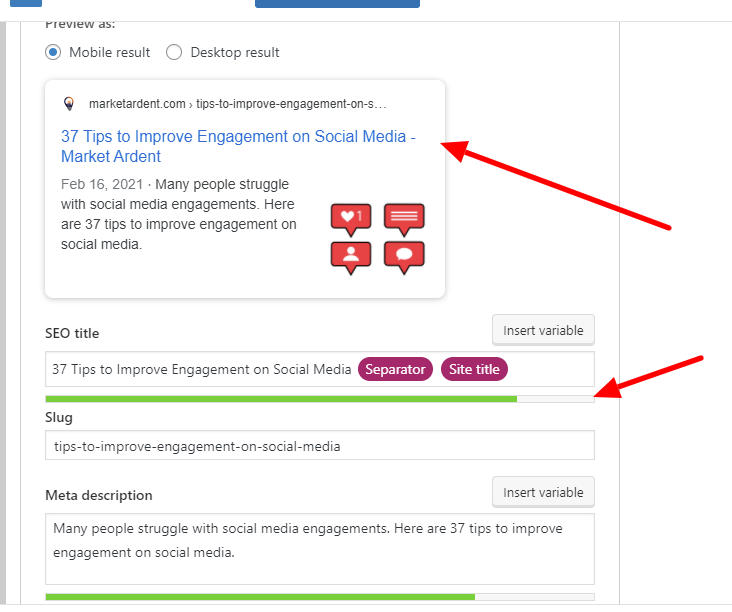 Improve Site Speed
Site speed not only enhances user experience it also increases clicks. Therefore, ensuring that your website loads as fast as possible is essential to improving your CTR. After all, a click only counts if a page loads. If your page doesn't load on time, potential visitors will leave, and the click will never occur.
Additionally, slow-loading pages risk losing potential clients, who are impatient, to other competitors on the SERP. It can lead to a loss in revenue for businesses. If your site can load one or two seconds faster, you can gain a competitive edge.
You can use free tools like Ubersuggest and Google's PageSpeed Insights to evaluate your page load time. These tools can also suggest specific areas you may need to make improvements.
For instance, several large images on a page are a common cause of slow-loading sites. You may need to optimize your images by compressing them into smaller sizes and making them faster for the web.
Another reason why this is important is core web vitals. They are now a ranking signal. So, don't sleep on this.
Localize Your Content
Localizing your content can increase your visibility on local search results and improve your click-through-rates. For instance, with localized content, your pages can feature in Google's local 3-pack. These results are meant to match search intent; therefore, they usually have high clicks.
One way to localize your content is to register on Google My Business. It'll place your business and location on Google Maps and gives you a better chance to show up on the local 3-pack.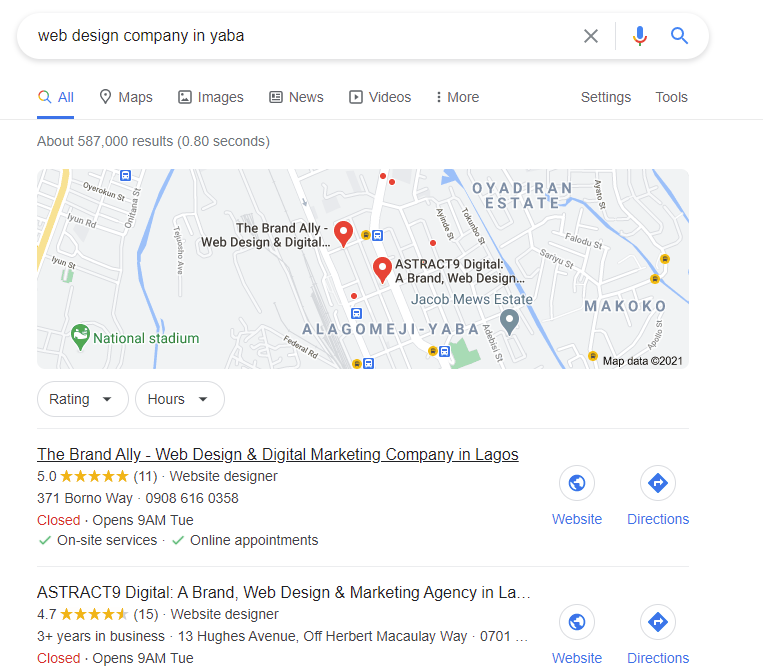 Also, ensure that your site is mobile-friendly. According to a survey from Uberall, 82% of smartphone users who shop with their mobile devices perform "near me" searches. As such, it's vital that mobile users can navigate through your site without any frustrations.
Compare Against Your Competition
If your click-through-rates are low, comparing against your competition is another helpful method for improving your numbers. You'll want to consider competitors that rank above you on SERPs for certain keywords or search queries.
Check out each of your competitor's title tags, meta description, and URL. You should be able to identify what they're doing differently than you aren't currently doing. With this information, you can make the necessary adjustments.
If you'd like to stand out, go a step further by answering the questions that your competitors didn't answer. However, for whatever changes you're making, always ensure that your content is relevant to users' search intent.
These tips are also beneficial for moving your rankings from other pages into page 1. As your rankings increase, so will your organic click-through-rates.
Conclusion
Organic click-through-rates are a vital aspect of your digital marketing campaigns. It determines your content's relevancy and how well it answers users' search queries.
By improving your organic click-through-rate, your business can become profitable. Also, since search engines love websites that attract users, your site can rank higher in the SERPs.
Start now with these 15 points and improve your organic CTR. None of these tips cost money or a lot of time. Yet, the results they produce are tremendous.